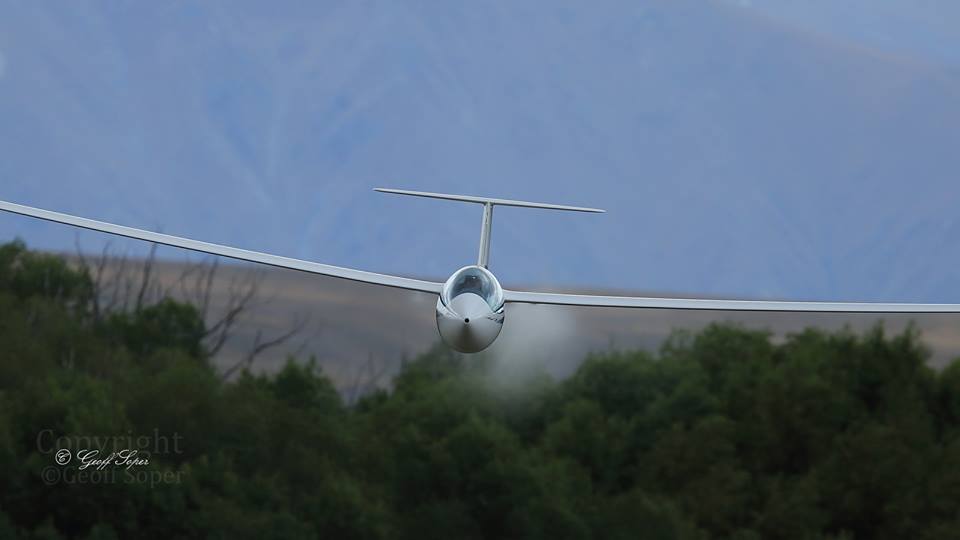 BUT,……first as promised in my last blog, 2 pictures from the 50thiest Southern Island Competition at OMARAMA and Geoff Soper gave permission to use them, so here you are.
The high-speed-finish from Derek Kraak in his ASG 29. He flew that day with a handicapped speed of 189.5 km./h. over 429.3 km. and ….won the day in OMARAMA.
The " slowest"  pilot still had 134.5 km./h. and the pilot on a daily spot 10 flew around with  167.8 km./h.
Not too bad ,is it?  Just amazing!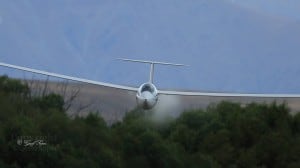 courtesy Geoff  Soper.
And the one below I loved as well,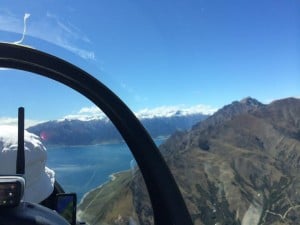 Thanks to Geoff!
—–
In Bitterwasser Reinhard Schramme and Klaus Reinhold, are " eating" kilometers every day.Last Sunday they flew 1.122.19 km. [940 FAI triangle]
16 Flights that day from Bitterwasser only, so it's really starting!The OLC shows lot's of Namibia flights at the moment in the top and from all 3 of them also 1000 km.-flights.
Last Monday South Africa had the better weather, with a great flight from my friends Rob and Marianne again, from Douglas, this time 948 km.[710 FAI triangle] but yesterday Namibia topped the list  with flights from:1.244 km. by Juergen Wenzel from Kiripotib [750 FAI triangle and speed of 141 km./h.] in ARCUS  M and in the EB 29 Alexander Mueller flew 1.254 km. [1000 km. FAI triangle and a speed of 142 km./h. from
Pokweni.
Lot's of great long flights ,  declared and not declared, in  open class gliders but the Ventus 2CM/18m. flew from all 3 places a 1000 as well, so did the HPH 304 s/SHARK.
—–
Jim and Jacky Payne have arrived together with Dennis Tito in Chos Malal last weekend ,for their annual wave holiday and this time Jim and Dennis are flying the new ARCUS M.
They are in Argentina for the Perlan Project Scouting Campaign IV and attending the 1st International Chos Malal Wave Camp.
On day 2 they "drove"  the brand-new ARCUS M with a speed of 122 km./h. over 1.207 km.Many more LONG flights hopefully will follow.
The wave on the first 2 days however was not yet too good.
—–
The South Australian State comps in Waikirie …..ORANGE WEEK……finally had some flying after 3 cancelled days.Club class with 5 pilots had a 2.30 AAT and in 18 m. a 3 hour AAT, with also 5 participating pilots.
Terry Cubley from Gawler won, yesterday the 1000 points with 339.6 km. in 3 hours at the dot! In his LS 3,fitting him as a glove for years and years, he flew 113 km./h.
In Club Class Steven Jinks flew his St. Cirrus to a great handicapped speed of 103 km./h. over 259.2 km.
Cu's were up to 6500 ft.
Both won day 2 , today with in each class a 3 hour AAT , as well.
The West Australian State Gliding comps in Narrogin, count till now 5 days.On day 1 only 2 pilots finished .Greg Beecroft [LS 8]  was not one of them, but he put that straight immediately by winning the rest of the days till now.4 Days with 3 hour AAT's , one with 2 hours.
Just to let you know;The Victorian State Comps , rescheduled to Benalla , have been cancelled .There were only 7 participants, spread over 4 classes, not enough for  a valid comp.It looks they are going to run it in conjunction with Horsham Week in February. Will keep you updated!
—–
And after the Norwegian pilots also the Finnish pilots are interested in the Uppsala Masters for 2015. You can't start early enough with organizing.
—–
A short blog today. When you have missed it,….. I published one last Sunday as I felt so much better, so in case of ….you can continue reading.
Cheers Ritz
on November 26 2014.