ONE AND A HALF  week in ONE GO!!!!!On the bottom of the story a bit more about my eyelids and the operation!
2 weeks in one go would have been a bit too much, with all the news. There will be a new blog on Wednesday.
Winter did not yet arrive in Holland.15 dgr. at the moment and sunny.
These spring flowers just popped up in my garden, thinking spring has started already. Ouch,…… their "heads"  will be COLD soon, as in 2 weeks the temperatures are forecasted to drop. No worries we had a fabulous autumn!!
This time it was part of the USA [ N NE] having the extreme weather. They never had so much snow in November as this year. Specially New York and Buffalo look like hit really hard!
In Australia/Narromine I heard it was 40 plus and DRY. But,….kilometer -eater Terry Bellair flying at the moment at Narromine mentioned after his 800 km. flight in his DG 400/17 m. today; " spent the last two-thirds of the flight dogging rain-but an interesting flight."
So at least today they had some rain.
Spring flowers in my garden on November 19.
—-
LAKE KEEPIT !
They started the Qualifying Grand Prix [15m. class] on November 17 at 13.40 with the first regatta start of the week.15 Pilots were flying from Lake Keepit and it was a challenging first day ; blue and with a strong inversion.
Even ABC news arrived and mentioned ; " The Gliding World Qualifying Grand Prix has been dubbed the Formula 1 Racing of the sky." 
The first 10 points were for Lisa Trotter. Good on her! She flew the 287.9 km. with a speed of 104.2  km./h.
Day 2 …blue as well….had 297 km. and LS 6  pilot , Jacques Graells, was the best , deserving the 10 points with a speed of 107.3  km./h.
Day 3 showed a distance of 324 km. on what they called " a great day" and this time Andrew [Georgeson] got the 10 points flying his ASW 27 with a speed of 1327.1 km./h. over the NNE of the Lake Keepit areas.
Day 4 with 307 km. was a prey for Tom Claffey [ASW 27] ; 10 points for a speed of 129.4 km./h.over 307.7 km.
Day 5 had again another winner this time Craig Collings [ASW 27] winning with a speed of 109.6 km./h. over  237 km.
And Allan Barnes put his name on spot 1 on the last day; 141.3 km./h. in the LS 8 over 370 km. He got the bonus point as well so 11 points for him.
As he said in his comment:
" Final 6th day of the GP and I finally got my act together! I was determined to win the final day, and fingers crossed, barring penalties, I might have done it. The first leg I worked with Matt Gage; it was fun because we know each others' flying styles well.  Great day to finish, 143km/hr for 370km!" They even found 12 kt.
Ready for another good day, with cloud streets. Young Ailsa finished on spot 13 with 4 points.
As shared om FB by the organizers.
A LOT of penalty points during this QGP, shaking up the preliminary scores all the time. Mainly for turning left before the start, or going too fast over it or by finishing too low.Rules are rules, fair enough and you know about it!!!
In the end the 3 pilots going to Italy for the WORLD FINALS are; Graig and Tom both with 41 points and on spot 3 Matt [Cage 33 points] not winning a day but consistent over the comps-period, except for day 1 when he got no points.
Allan, who flies a lot with Matt was on spot 4 with 3o points and by winning the extra point on the last day, he "beat" Lisa who had 29 points.
—–
FINALLY good weather in Namibia !!!
On November 19 the weather improved so much that great long flights were possible in Namibia. Bitterwasser, Kiripoptib and Pokweni , all 3 of them had some great over-1000 km. -flights. A total of 9 , so that's a nice beginning.
1.217 was the distance for Klaus Reinhold/Reinhard Schramme topping the OLC list that day. Nice speed as well with 141.38 km./h.
EVEN 2x 1000km.-FAI-TRIANGLES by Walther Binder in the EB 28 and 1 in a Ventus 2CM/18m. by Henning Winkelman both from Pokweni.
They still had great 1000 km.-weather on the days after.
From Douglas Backhouse , in South Africa ,2 Dutch pilots , Max [ I told you already Max loves this record-flying!!!] and Hermann flew a new Dutch -open-class- record;  a declared 1000 km. OUT & RETURN with a speed of 149.11 km./h.
From Douglas another nice flight from brother and sister Looisen from Holland in the Nimbus 4DM; 770 km.
But Rob mentioned;" Overdevellopment, challenging flight ! Even got a thermal of 8m/s! Found by Marianne ! Landed after lots of rain in Douglas." 
Rob was in the past Dutch champion and flew with us in Tocumwal. His sister Marianne flew with us as tuggie in Tocumwal and is a light-plane- instructor and gliding instructor.
From November 18 onward KURUMAN  was close to 1000.km-flights as well. After a lot of  "lows"  with wet days, they finally got the REAL South African weather!!
—-
The 50thiest South Island Gliding Championships, we are talking now of course about New Zealand, was attended by 34 pilots flying in 3 classes;club,15m/standard and 18m./20m./open.
After 1 flying day and one scrubbed day, day 2 was interesting when young Nick Oakley [ASW 19b]   flew with a speed of 160 km./h. over 320 km.!!! He started relatively early at 1 o'clock whilst the last pilot started nearly one hour later!
In open /18/20 m. class the speed in a DUO DISCUS W was fabulous as well on this wave/ridge day; 161 km./h. over 323.2 km.
" The wind is gusting quite strong here at the Omarama Airfield and the clouds are starting to form up into wave lines (a bit). "
Day 2 was much slower in 2 classes they did not get over 100 km./h. and in open the best speed was 127.8 km./h over  290 km. in an LS 8 on a day with pretty marginal weather.
"  An AAT for all the classes with big circles around all the turnpoints as there is a very high probability of thunderstorms today. The air is very cold – not only do we have snow on the Benmores but on Little Ben and Horrible too! Combine the cold air with nice warm / hot sun on an unstable day and you get lots of clouds." is what Lex mentioned in his daily blog.
On day 4 I nearly fell from my chair. It's pretty unusual in the " normal" soaring world to fly with a speed of 170 km./h in an LS 4b over 240 km. during a competition. But for wave and ridge comps surely different rules count!!!
What about 167 km./h. in an ASG 29 over 384.4 km. and last but not least  an average handicapped speed of 189.5 km./h. in an 18 m. ASG 29 over 429.3 km.
With a speed from 155 km./h. you were " only"  12th.
Blogger Lex mentioned;" We have a quite moist westerly outside and the sky is full of nice looking wave (lenticular) clouds! Wave task for all three classes – very much an Omarama special task. Fuzzy turnpoints, 5km in radius and scored as an AAT but with an impossible minimum time of 1 hour. The larger turnpoints mean that there is less congestion at the turnpoints when gliders are high and fast in the wave. The tasks are going to the East as well to force pilots to jump forwards and back between wave clouds, so everyone is not zooming back and forth along the same cloud! Launch is set for 13:00 – it all depends on the weather." 
Day 5 was one where you had to be careful to be on the right spots. Some aborted , some already after 40 km. , but George Wills flew with a speed of 170 km./h. over 339.3  km. in the Discus 2C.
The DUO DISCUS e with Chris Streat, even went a tad faster; 172.7 km./h. over 393.5 km.In this class several pilots flying back "home"  as well, one already aborted after 30 km.Of course I checked for you what they said about this day 5 on their site.
Here is Lex again:" For a contest that looked like it was going to struggle to get 3 days of flyable weather at the beginning, I think we have managed to do quite well. We have a task for today so that would make 5 competition days! Pretty much the same task for all the classes, including Club – an AAT that uses the, hopefully, clearer sky to the east and north. It is definitely a wave day today as well so the speeds could be quite fast like yesterday."
and later;" Looks like a hard day today. A lot of pilots have abandoned the task and come back home. Lots and lots of cloud up there. The scorer went on a wee trip to Kurow this afternoon – if the wind was as rough in the air as it was on the road then it would not be fun up there. We are still getting pilots re-starting so it could be a long day for us in the radio room."
On the last day it was raining cat's and dogs, so day 6 was scrubbed,  but 5 out of 7 is good certainly when you fly with HUGE speed.
In the end Aussie pilot Graham Parker moved on day 5 from spot 4 overall to spot 1 in 18m./20m./open class, flying the ASH 25 with Keith Essex to a 2d place on that last day; 925 points.[163.2 km./h. over 326.3 km.]
Max Stevens in the Ventus moved on the last day from 1 overall to 2 by gaining " only" 704 points that day.[ 113.6 km./h. over 233.4 km.]
Warren Dickinson [LS 8/ 18t] flew himself to a 3d overall sport coming from 6.[141.1 km./h. over 302 km.]
In 15m./standard George Wills won the comps just under 300 points above Nick.He was the daily winner on day 3,4 and 5.
In club class Brian Savage was the best. He was so on the first and last day!
Full scores at www.soaringspot.com 
A big thank you to Lex for his reports, so we all know [again] how good OMARAMA is!!!
Hope to share some nice pictures later as they have copyright and then of course you ask the top photographer first, which I did.
No answer yet so I will add them hopefully later.

—-
Just to let you know!
Changes in comps! The Victorian State comps from Bendigo/Raywood have been moved to Benalla , but the date is the same; November 29–December 6 included.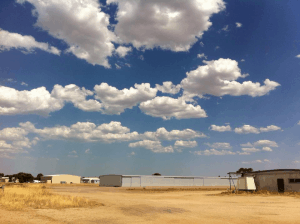 Benalla's great conditions.
As shared on the Victorian Soaring Association-site.
The South Australian State Comps have been moved from Bordertown to Waikirie, from 22d to 28 th of November , so they should be in full swing now,with 12 participants in 2 classes but no flying yet due to the weather!
Both Waikirie and Benalla held a WGC in the past.
The West Australian State Championships with 13 participants in one [handicapped]-class started on the 18th from Narrogin. They had 2 challenging days the first one with many out-landings but today on day 3 they had a 3 hour AAT  and Greg Beecroft got the first 1000 points for a flight in his LS 8 from 302 km. with a speed of 96.8 km.h.
—-
2 German pilots had great fun , on November 18, even using their motor temporarily, flying from Argentina's Chos Malal. One of them the famous well known Klaus [Ohlmann] in his Stemme and the other one Wolfgang [Goering] in the Quintus M.
As Klaus mentioned in his OLC comment; " Winds up to 140 km/h. and a lot of shearing. But despite the need for the motor in Quem Quem Treu we had a wonderful waveflight." 
They flew all the way South passing Chapelco to Nahuel Nuapi and back over 6 legs a total of 1.310 km. [speed 154,76 km./h.]  for the Quintus and a bit less for the Stemme.[1.289 km. with 129.51 km./h.] 
—-
The organizers from the Uppsala Masters are working already very hard. At this stage they have 13 entrees in open class, 27 in racing class and 4 entrees in a class to be announced.They got even more now, as I read. Quite some Norwegian pilots too, good!
23-30 Of Mai 2015 is the date, put it in your agenda when you are interested!!!
—-
And it is OFFICIAL now. The Dutch Gliding championships will be flown from St Hubert in Belgium together with the Belgium and Luxembourg mates. THE OPEN BENELUX Gliding Championship will be flown next year between Mai 15 and 25. Will be great fun!!!Lots of top pilots and all lovely people. Hope to be there for a few days next year.
—-
Back on track again. The operation took 15 minutes, the healing about a week, the full healing [disappearing from the scars] will take months.
As you can see I looked like an 80- year-old!
Most important is the result;ALL cancer cells are gone.
Happy, but I do realize that I am lucky and not everybody is so lucky. Feel for them.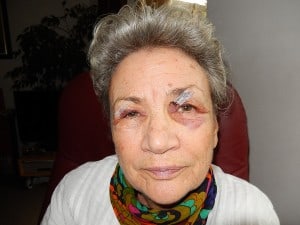 NOT TO BE TAGGED.THANKS!!!!!
Cheers Ritz
On Wednesday November 26 2014