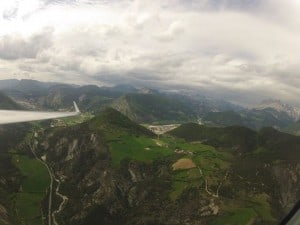 The Sisteron Area.
courtesy Aussie team
The Grand Prix Final at the moment  is more exciting than ever before, at least that's what I think. All those social media involved, make us part of the show.
All live- news on www.sgp.aero and great videos on their FB site  [www.facebook.com/FAIWSGP2014]  and,…during the day or in the evening on www.soaringcafe.com , as we " are passing the word out"  as they wished us to do.
Great pictures and videos as well, have a look.
ENJOY!!!!!!
What happened more in our world then in Sisteron .
We here in Holland had some kind of autumn period but luckily it seems over again with temperatures up to 22 dgr. on Sunday. The Dutch Nationals start on May 22 so it is important that we keep the good soaring weather. Will come back on the Nationals next week.
The Canadian Rockies were working and give flights up to over 700 km. in a Ventus 2 CT from Invermere.
Both Invermere and Chipman had good flights, the last one with a 692 [ 672 FAI triangle] in an ASW 15.
Ocana in Spain had earlier some good conditions as well.
A special glider topped the OLC day on May 12 flying from Black Diamond from Alberta  Canada. The comment from pilot Tony Burton was :
" first 500 triangle in the Russia. Great run south on the first leg down the Porcupine Hills. Mostly blue coming home into wind but the 2500m agl thermal tops helped a lot."
I have seen many gliders but never heard of a RUSSIA AC-4C!! If you have n't either I googled it and here is what I found.
—-about a C model.
—-Is the retractable gear model with increased performance. It is an excellent solo glider for students transitioning from nose wheel two -seaters like the ASK-21. Features include automatic control connections on all surfaces, a wide range of pilot weights and heights, adjustable rudder pedals, excellent visibility, and crisp handling. Performance enhancements include an optional retractable main gear, faired tail wheel, wing root fairings, and the same wing finish that has brought praise from flight testers.—

And a bit more info about the AC-4 polar…..
The data of flight polar was extracted thanks to the series of test flights of the AC-4C, onboard № 045, executed by Chad Moore (USA).

According to recommendation proposed by Dick Johnson, on the glider AC-4C had been established fairings in a place of fastening of a wing and fuselage. Such type of fairings are established practically on all gliders of the "AC" series.

Chad Moore published results of the tests in article:
"Performance Testing of the Russia AC-4c Retractable", printed in the American magazine "Soaring", September, 2002.
Found this news on http://www.aviastroitel.com/en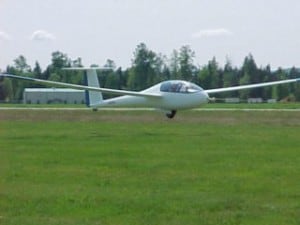 AC-C model
Something totally different.
I had the pleasure of catching up with the grand daughter of the founder of one , maybe even THE FIRST  International gliding center in the world Sportavia Soaring Center; Bill Riley. Pilots from Europe were invited about 45 years ago, to come and fly in their winter to enjoy the great and sunny weather and great soaring conditions in Australia on a former military WW 2-airfield.
An airfield  were from 1942 the RAAF took over and stayed there for 18 years.
As my good friend Bob Brown writes in his essay over the airfield;
" All types of aircraft came in,…battered planes from combat zones for urgent repair, new planes ferried in from overseas to be serviced , modified , armed and made fully operational".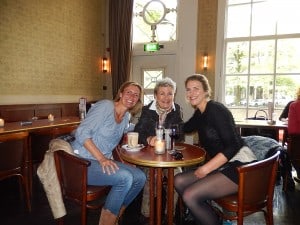 My daughter Inge to the left and Rosi to the right,
54 Of the BIG LIBERATORS were stationed there , but in 1960 it was quiet again in Tocumwal.
And more then sad, the LIBERATORS and about 700 other planes were chopped and melted down in ingots of aluminium, necessary after the war to make pots and pans and parts for the new HOLDEN car.
You can read the full essay written by Bob  on ;
http://tocumwal.weebly.com/1/post/2011/03/a-brief-history-of-tocumwal-aerodrome.htm
Bill Riley decided  , about 45 years ago, to start a gliding school there. Ingo Renner , who had moved from Germany to Australia in 1967 was his chief instructor , living part of the year in Tocumwal and part in Oerlinghausen, having the best of the 2 soaring worlds.
Bill supported Ingo in his ambition to fly comps and helped him and often accompanied him on WGC events. As you know Ingo won 4 of them.
Bill now is in his nineties , just moved to a hostel for elderly people and the beautiful WW 2 hangar , 100 x 50 m.  and a real historic building, is nearly falling apart which is more than SAD!!!
As Bob wrote:" With an absent and non-occupying owner the level of maintenance will inevitable decline putting the war time structure at serious risk."
So you see what a lunch with Bill's granddaughter Rosi has done to me, getting back all those memories.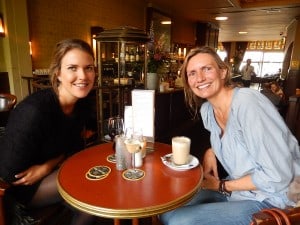 Rosi and Inge
More memories as Inge flew in the LANCE from Rosi's uncle David, about 20 years ago the at that stage 5 year old Rosi and her mum sister and brother and 2 friends, from Tocumwal to Byron Bay on the East Coast and after a week back again. A big event for a just 20 year old pilot. But they all had great fun and both still remember those good times.
The bond between our 2 families is strong since we met in the early eighties.
Nowadays the South area of Tocumwal airport is the host for more overseas guests as Eddie and Cheryl run Sportaviation there . For more info; www.sportaviation.com.au
Ingo is still in Tocumwal as well as chief pilot of the SRGC, a big club with also overseas members.
The Sportaviation hangars seen from above and converting  to an LS 4 for the 2 guests from Thailand,who are there at the moment!!
Courtesy Eddie Madden
Enough memories now. CU you mainly every day in the SOARINGCAFE for news on the GRAND PRIX FINAL and next Wednesday again in this blog.
cheers Ritz on Wednesday May 14 the day Dundee arrives here. He was and is a frequent Tocumwal-visitor after Ingo told him in Oerlinghausen to visit him in Australia. Unannounced he arrived.It was a hell of a job to find him a room for 3 months in high season , but we did and he still spends 6 months in Tocumwal.
m"
f aircraft came in – battered planes from combat zones for urgent repair, new planes ferried in from overseas to be serviced, modified, armed and made fully operational.