After that glorious Saturday-weather, Sunday was a bit different here in Holland. The sky was not as blue as blue should be, but a kind of milky-blue .Still great and high clouds however and a much nicer temperature. As I read  some of the pilots had to really work hard to get back home . But still several flights over 500 km..One , a VERY FIRST 500 by Robin Smit in the LS 8.He is a happy chappie, so he should!
Around 2348 flights were added to the OLC. Eight  of them  European 1000 km. flights 6 from Germany and 2 from Austria  and one from Sweden. And 4 from Minden in the USA. Alexander Mueller flew a 1000  FAI triangle [1.155 km] from Bayreuth in the EB 29. Michael Sommer flew one from Oberhinkofen and Josef Eder flew from Schaerding and flew over  German top soaring places as Klippeneck and Hahnweide and via the WGC town Bayreuth.The Ventus 2 from Eduard Supersberger flew the other Austrian 1000. from Lienz.
Swedish pilot Jan-Ola Nordh flew one in a Discus 2T and we can congratulate him as it is the first 1000 km in Sweden in 15 m. class!!!
Another superb day in Europe , with flights in an LS 1 d from 712 km. and 748 in an ASW 19. Not bad for the beginning of May, but as you know  spring can be awesome!
1237 km. From Minden that day in an ASW 27 was very  special too , but SUPERB was the word for Mitch Polinsky's wave flight from Minden on May 4 as well. He topped the OLC list on Sunday with only his 3d wave flight;he flew 1.516.6 km. He still is grateful for the flights he made in the back of the gliders with Jim Payne and Gordon Boettger where he learned to fly in wave. GREAT teachers!!!! Mitch flew in his ASH 31 MI/18m.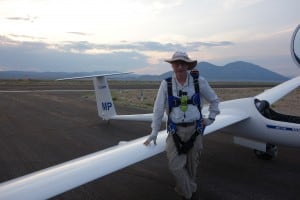 Mitch here after a flight in July.
Talking about Gordon: On the same day we ALL got by several social media, the message to keep an eye on the flight of Gordon. What a great idea!
He wanted to share  a" distance record attempt along with Hugh Bennett in the Duo Discus sailplane.  Our intention is to be towed up by a towplane shortly before sunrise around 0530 PDT from the Minden Tahoe airport NV (KMEV), release and head in the direction of Rapid City, SD (KRAP), landing near sunset after flying over 850 miles.  If we can go beyond that, we obviously will.  As most know, we will be making this attempt in an unmotorized sailplane utilizing mountain wave updrafts to stay aloft.  The weather is favorable for this intended direction but weaker forecast winds might make slow going. If the flight is aborted due to technicalities or unfavorable weather, Walt Rogers will post on his twitter account (below).  We intend to climb up to 28,000 feet before proceeding east.  As most know, there's no way to tell how far we end up going.  It will depend on what the weather allows.  It will be cold as the cockpit is unheated and unpressurized.  There are too many factors involved to tell how far we end up, which also makes it quite fun to watch from the sidelines on the ground.  Our call sign for the flight will be N55LK. 
I will also be posting live pictures and video feed (workload permitting) and be in satellite communication with Walt Rogers, our meteorologist and dispatcher.  You can follow his excellent twitter feeds with weather updates and our progress and inflight pictures by going to:
My goal is to share this wonderful adventure and beauty of unpowered flight with the rest of the world.  Without being in the cockpit, this is the best way we know how to share it.   Feel free to share this with your friends.
N55LK
Good on Gordon to take us with him during the flight . Who would have believed in the past , when we were fiddling around with camera's and barographs that this would be possible.
Walter Rogers is a retired NOAA forecaster . On the site he is called the soaring-aviation-forecaster-guru!! Still interesting after the flight to read his tweets!
All the news about this record flight  in the DUO DISCUS, you can find on ; www.skylines.aero  and a blog with pictures on www.soaringcafe.com.
"Although Gordon and Hugh didn't make their declared goal at Rapid City, South Dakota, they did land safely at Hullett, Wyoming, which is approximately 870 statute miles (1401 km) from their takeoff site at Minden, Nevada. That's about 170 miles longer than the existing U.S. Free Distance/Multiplace record, which they set on April 15, 2013."  source SoaringCafe.
A bit of a tougher day for the French Nationals in Buno. The 2 seater -pilots got a 322 km. task and 9 from 15 finished. Among the 15 are 2 couples flying HC as they are not French.
In open class 4 from 18 are HC. Great day for Jutta Storm in the ASH 25 /26m.,  as she won the task over 383 km. with a speed of 82 km,/h. meaning it was a real tough day!
Day 3 was a real tough day with a 2.15 AAT and only 3 pilots finished . Not too much points to loose or to win.
In open class same task and same amount of finishers. In nearly 3 hours the runner up flew in his ASW 22 BL a distance of 193.6 km. That says it all.
Yesterday was cancelled!
SISTERON IS READY FOR FINAL of  THE 2014 SAILPLANE  GRAND PRIX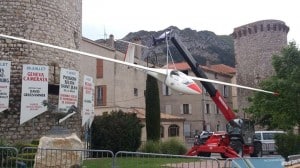 The French Pegase as PR tool
The preparations , now also for the pilots , for the SAILPLANE GRAND PRIX FINAL in Sisteron are in full swing.
Arne Boye Moeller was so kind to drive from Denmark to France to bring his glider AB for Bruce to fly.
As we did in the past they swapped gliders. Arne flew Bruces glider in Australia, Bruce flies his glider in Europe.
Great and friendly deals they are, love [d]  them.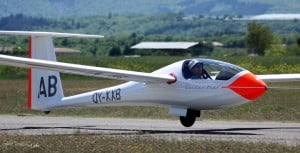 Bruce in the glider from Arne-Boye in France.
Courtesy aeroclub from Sisteron.
AND
First impressive flights by Bruce over the mountains.
3 Aussie- mates  in this GRAND PRIX; Bruce Taylor, Tom Claffey and Graham Parker and specially Tom is excellent in sharing his pictures. Here a few from his practice time.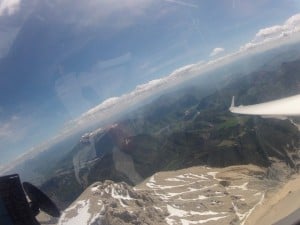 Picture 1; Running the "par cour"
Picture 2; This is AB, Bruce, over Digne.
Picture 3; Having fun at Pic de Bure with Bruce, Graham and John Coutts, on a good day but too blue to go North all the way to Mt Blanc.
Courtesy ; text and pictures Tom Claffey.
and this is TOM.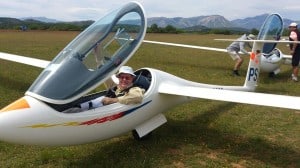 The Gauteng Regionals in S.A. finished with not too many days;  a total of 4 out of 8 in 18 m. class , but don't forget it is autumn over there.
Day 4 in 18 m. class however, showed a high-summer-speed of 156.5 km.h. over 288 km. by Oscar Goudriaan , [JS 1 C in 21 m. configuration]. He won in his class, after being the best on the last 3 days. Good on him!For the scores also from club and 15 m. class you can go to; www.soaringspot.com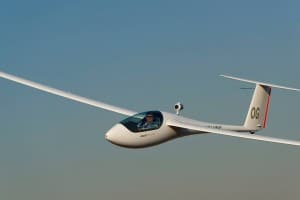 Oscar winning 3 days in a row.
Picture as shared  Jonker Sailplanes.
The 13,5 m. Italian Nationals in Alzate Brianza had 5 days and Ricardo Brigliadori won 3 of them and the TITLE.
Parallel with these comps the Club class flew and had 4 days. Davide won with 300 points ahead of the runner up. So a good champion and a very nice young man.
Prievidza continued with their competition, blessed with a few REAL good over 500 km. days. After 2 cancelled days , good for a nice rest of the pilots, they continued again on Monday , day 5, with;
537 . 7 km. in the mixed class, 504 km.  in club class and the 15 m. pilots  had to go for 544 km.
19 from 28 finished in the mixed class. Best speed 107 km. in an ASG 29.
32 from 52 in club class managed to do so. Chapeau! A long day as some flew over 7 hours.
15 from 36 arrived home in 15 m. class.
Tuesday in Prievidza; a 376 task was set and flown by nearly all pilots in the mixed class, same as the 333 km. for the club class.A few out-landings in 15 m.They went for 379 km.
Today tasks of ;1.45 AAT's in each class.
Antti Lehto, has arrived last week with his brand new ARCUS in Rayskala when there was snow on the ground. His first real cross country flight was a REAL good one. Last winter he practiced in Bitterwasser and he found the weather circumstances yesterday in Finland a bit alike ,only the temperature was totally different. BUT a great flight 1000 km!!!! Good !!!
That's all about the news for today on May 7 2014. More news in my soaringcafe blog on Sunday at www.soaringcafe.com
Cheers Ritz