Another week is over and still no news about the MH 370!!! Weird to see, that in the time we live in, something like this can happen!!
The latest stories are about " stalking" another 777.
It feels , if it was not so tragic, as if you are reading every day a new part of a science-fiction-book or a thriller.
In some theories they even think that the 777 might show up during the Nuclear Security Summit here in the Hague next week,  where not 48 [ as I said in my last blog] but even 60 world leaders will appear.
Others think it is shot down and not protected by their own airforce!!
" Stalking"  , hijacking, wrong info put in before the flight, not competent pilots, transponders switched off……..it 's already TOO much for me, how would this feel for the family and friends of the passengers and crew.
Hope they find soon signs of what happened, but unfortunately from the past we know it can take a while.
Last Wednesday Tony Condon from the USA topped the OLC list with one of those special " goal-flights". Flights you don't decide to do one day before, flights which need quite some preparations.
This time in a St. Cirrus flying 517 km. from Wellington [USA] to De Queen in Arkansas very early in the season.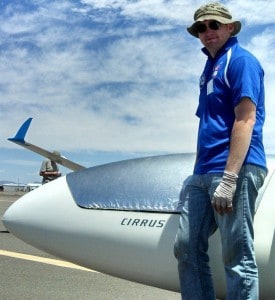 Tony and his St Cirrus.
OLC link to the flight here: http://www.onlinecontest.org/olc-2.0/gliding/flightinfo.html?dsId=3486851
AND  here is his story;
Spring Go South
By Tony Condon
Spring Go South. KSA members have been saying that for decades. Since well before Jim LeSeuer wrote his article "Distance in the Spring" in the March 1967 Soaring, pilots in Kansas have been watching spring cold fronts pass, watch the weather behind them closely, and occasionally chase one towards the Gulf of Mexico. Bernie Mohr followed just such a front on his flight in his modified BG-12 on April 2, 1971 from Newton, KS to Osceola, AR, a flight of 436 miles that stood as the Kansas State Record for over 40 years. Tonk Mills described a post cold front flight in the Fall in his September 1989 Soaring article "November Flight" where he flew 265 miles in 4 hours.
In my early days of Cross Country soaring in my Cherokee II I was often looking for a cold front to chase. While almost all of my flights in the Cherokee were downwind dashes, none of them that I remember were post frontal and my best distance flown in Iowa was about 100 miles. After moving to Kansas my flights got longer but that elusive cold front just hadn't worked out. Steve Leonard, Andrew Peters, and I would spend each spring analyzing the upcoming fronts and then watching them go by ,while watching the Satellite pictures from our desks at work. It seems that these fronts tend to happen Monday through Friday.
Since I have been liberated from desk duty for the time being, I had one roadblock out of the way to attempt a flight. The week before the flight I had noticed strong north winds forecast for the Talihina, OK area on Wednesday and wished that it would be reasonable to get a towplane there for a long day of ridge soaring. After John Wells gave an excellent presentation on Saturday night about Soaring Weather, I realized  that the cold front on Wednesday just might be bringing good thermal conditions. I contacted John on Saturday night to see his thoughts on the Weather. On Sunday I asked him if he'd like to chase me. The forecast was indicating that the soaring would definitely be good and with due north wind. I started looking at routes down towards Dallas and further on and started working on getting everything ready for a potential flight.
On Monday, I arranged with John and KC to chase. That was a big relief to have a good experienced crew available, and well in advance of the flight. Leah and I went down to Wellington after work to assemble the glider, our Standard Cirrus "Kate", and I hoped to change the tires on the trailer and do some other work. We got the glider assembled and in the hangar and then spent the rest of the evening repairing the lights on the trailer. The forecasts still all looked good although without as many clouds as I would've liked.
repairs on the tires.
On Tuesday morning, Steve sent an email out about the weather. Looked pretty good for a go south flight and it was good for me to know that his opinion on the weather matched mine. I returned to Wellington and with help from my partner Rafael Soldan we repacked the bearings on the trailer and put new tires on it. I also did as much prep work on the glider as possible so that I could minimize the number of tasks required on Wednesday. The cold front hit early afternoon with wind gusts in Wichita recorded at 53 mph. I was sure glad the glider had already been assembled and was safe and sound in a hangar. The forecast updates were showing a more northwesterly wind and I was starting to wonder about the possibility of soaring to the Talihina area and using the ridges there to extend my distance. On Tuesday night, Randy Teel posted a wind forecast on the Talhina Soaring Facebook group and wished that he wasn't busy with airline simulator training that week. I mentioned I was hoping to fly there from Kansas and he recommended a turnpoint to join the West end of the ridges, near Daisy, OK. I had never flown that far west on the ridges there and his information and shared experience was important for my confidence on the route.
Tuesday night I confirmed with John and KC that we would meet at my house at 9 AM to head for Wellington. KC had a lot of confidence in me as he said he would pack an extra pair of clothes in case we ended up at the Gulf of Mexico. Optimism. I like it. I spent the rest of the night getting batteries charged, looking at forecasts, finding maps and developing a task for the day. I decided that a launch at noon would be about right and set a task from Wellington to Cochrane Ranch airport near Daisy, OK and then to the Three Sticks monument on the Kiamichi Ridge and then to Texarkana, TX. Total distance was 360 miles. I figured 6 hrs at 60 mph would be a spectacular flight for March 12th, but decided to declare big or go home. Since I have never flown south of the ridges I also spent some time looking at the route between Three Sticks and Texarkana. There are a lot of trees down there, but an airport at De Queen, Arkansas was about halfway, which made me feel better.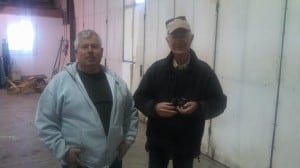 The VERY important "chasers".
Wednesday morning I made a quick check of the forecasts. Everything looked the same, the sounding still showed that noon would be a good takeoff time and the forecasts still showed clouds until Interstate 40 with a slight chance of clouds after that. Further east into Arkansas the clouds may extend further south so I felt that my plan of cutting east on the ridges was a good plan. As we drove towards Wellington, the first flush of low altitude cumulus arrived. The mood in the car was pretty high. It didn't take long to get the glider ready. Rafael asked me to bring the towplane over and after some searching we found the plane and discovered that its battery was dead. No fear though, Air Plains had a cable for jump starting. Whew! I pulled the glider out about 11:30 AM and could see the first cumulus wisps on the horizon. Good timing. Mike Logback texted me at 11:45 AM to let me know that there was Cu in McPherson, Northwest of Wichita. KC and John got the towplane started and I launched at 12:14 PM, just as the first Cu wisps were arriving over Wellington. Perfect timing.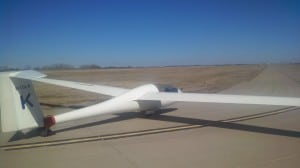 about 15 minutes before takeoff
I found lift immediately off tow, went through my start line, and told Kate Ground to head out. They had just finished hooking up the trailer and were on their way. I tiptoed very carefully at first, taking any lift going up and waiting for the cloud field to develop in front of me. I had had several flights in the Cherokee where I pushed out too hard to start and spent the rest of the afternoon watching a beautiful soaring day go by. I was not going to repeat that! By the time I crossed the Oklahoma border the sky looked much better and I was usually between 4000 and 5000 feet. About an hour and a half into the flight I got the first really good climb, 4.3 knots to nearly cloudbase at 6700 feet.
The clouds were not streeting so I couldn't take advantage of long straight runs. I was still flying pretty carefully, as I've had a lot of experience trying to dig out in from low spots on windy days in torn up thermals and I preferred not to add to that experience. The 20 mph wind was blowing right down my course line so I figured even a weak thermal was still allowing me to make good progress on course and was worth taking.
I passed Interstate 40 west of Henryetta as the clouds started to thin. Base had been rising and the clouds getting thinner and thinner. Beyond I-40 there were just a few faint wisps or haze domes and solid blue beyond. I initially was inclined to turn more East and follow the clouds but out in the distance to the east the clouds didn't really look a lot better. There had been a series of large fires with more on course in the blue and I was confident I could find lift in the blue. So I stuck with the task. Shortly after that I had my last radio communication with my crew. A few climbs from fires allowed me enough altitude to make it to McAlester. Nearing McAlester I saw no more fires but blundered into a good climb that gave me enough altitude to make the turnpoint. Alright! Shortly after I found a 4.7 knot climb that got me back up over 7000 feet and gave me plenty of margin to get to the turnpoint and get down on the ridge.
I joined the ridge east of Daisy. With the strong surface wind it was not a challenge to maintain over 1000 feet over the top. I passed by Sardis Lake as the ridge turned east and took 3 turns in that averaged 6.5 knots which made the gap at Clayton no sweat. I joined up with the familiar Kiamichi Ridge and ran east to Three Sticks. The ridge leg was a piece of cake and gave me plenty of time to game plan for the last leg of the flight. Ideally I wanted to get a really tall climb right at the turnpoint, at least get high enough to make De Queen and then hope to find another few climbs to make Texarkana. There were still thermals coming off the ridge so I hoped that the day still had something left.
flying along the Kiamichi Ridge in Oklahoma AND Sardis Lake in Oklahoma
The plan worked partially. I found a good thermal right at the turnpoint and took it to 6400 feet, which wasn't quite enough to make De Queen. However the thermal was dead so I set out. Shortly after that I found another climb which was very weak but was going up so I held on as long as I could. I gained 1300 feet and drifted 5 miles and my Oudie now said I could make De Queen at over 1000 AGL. I set out and found a spectacular river of sink in the blue and the margin started to disappear. Landable fields were few and far between but there were a few and I was pretty happy to find some zero sink about 7 miles away from the airport at 1500 AGL. I didn't gain much altitude but drifted a mile and a half and was in a much better place. The last few miles presented no problems and I was happy to land at the airport in De Queen, even if the runway was straight across the wind. Task distance worked out to 318 miles in 5.5 hours. A good day!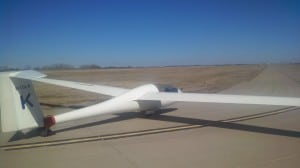 Greetings from De Queen in Arkansas.
The airport was equipped with a nice leather recliner so I relaxed and started to catch up on several texts and emails that I had received during the flight. Word had gotten out thanks to my friends notifying the world on rec.aviation.soaring, Facebook, and by email and several people had been following along on the SSA Sailplane Tracker. I contacted my crew and they were about 2 hours behind in Talihina after having some trouble finding a good route through the ridges in SE Oklahoma. They arrived shortly after sunset, the local Sheriff's Deputy let them in the airport and we were on the road a little after 9 PM. We arrived back in Wichita at 4 AM and I was wide awake riding the high of a great flight for at least another hour.
Thanks a lot Tony for sharing this great flight with ALL of us!Indeed WHAT- A- DAY!!!!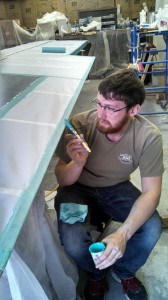 Tony, here busy with another soaring-related hobby.
Courtesy Leah [Tony's very supportive wife]
Practice for the upcoming WGC's is HOT these days. The Aussies have a squad week in Narromine and I wrote already about VERY good practice from West Wyalong a while ago, between Allan and Matt.
The Aussie team ;
Team Poland ; Tom Claffey and Ben Loxton in 18M and Matthew Scutter and Craig Collings in 15M. 
Team Finland ; Allan Barnes and Matt Gage in Standard and Adam Woolley and Eric Stauss in Club.
No Aussie entries this time in Open or 20M classes.
As Adam mentioned;" 2nd day of the squad week, looks good. Team Finland really gelling nicely, all having a great time!
300 km. fixed task for dry gliders, 350 km. fixed for the wet gliders!"
Shared by Adam.
The "life is good"  formula works for the Aussies :
" good fun racing today, together all day – went faster as a result. Enjoying a nice meal & cool ale now at the club house.
Thanks to Mike for excellent ground support today (& every day)"
And what about Matt and Allan, both having / enjoying a  coaching-flight in the DUO DISCUS with Ingo Renner!! What better practice can you have?!
As I read he is still in good shape saying p.e. " good sink is difficult to find".
And when somebody asked  about the role of "luck" in racing, he said  "The more practice I get, the luckier I get".
So Ingo!!!
And talking about Matt;
GFA has ratified the following records flown by Matt Gage:
Australian National Records in Standard Class
Free Triangle Distance: 1,048.54 Km
Free Distance via up to 3 TPs: 1,060.76 Km
Date of flight: 16 January 2014
Glider: LS8/15m
Location: Benalla
Claims have been submitted to FAI/IGC Records Office for 2 Continental Records, Oceania Region, from this flight for the 15m Class Free 3 TP Distance and 15m Class Free Triangle distance records.
So well done to Matt!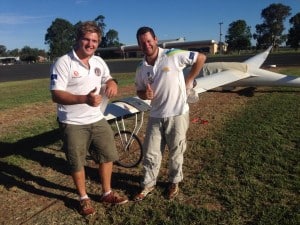 Adam and Mike.
As shared by Adam.
Some Dutch pilots travel to France to prepare as Jeroen Verkuijl and Jelmer Wassenaar [LS 10/18m.] and others practice at home as Alfred Paul Alfers who mentioned:" Physical exercise for Finland started. Last weekend 5h garden work out and 60km on the racing bike. 
Today my friend convinced me to aim for 80 km. of biking…..which finally became 110 km. in 3 h. 45 min"
As you see/know, you don't jump in a glider and fly a WGC. There is much more to it!!!!
Some of the German squad fly in France as well.
EUROGLIDE 2014 will be from June 23 till Saturday July 5 this year.
79 Teams in 3 classes [ glider, turbo and  self launcher]  have entered, from 6  different Nationalities!
A huge HAPPENING as some teams exist out of  4 pilots.
Starting fromEindhoven (EHEH) to Dahlemer Binz(EDKV) in Germany.
Then to the South West to Poitiers(LFBI) in France.
From there to the East, just North of the Massif Central, to Roanne (LFLO).
The following leg to Klatovy (LKKT) in the Czech Republic passes through four countries, France, Switserland, Germany and the Czech Republic.
The finish is in Malden, the Netherlands.
The total distance is 2438 km (clock-wise 2475 km).
Please note the route will not be exactly the same for all classes.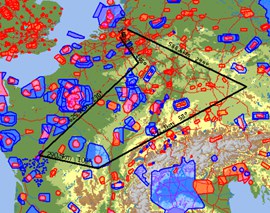 For all news and the teams;
www.euroglide.nl
More than enough for today. CU next week, or on Sunday in the CAFE!
cheers Ritz