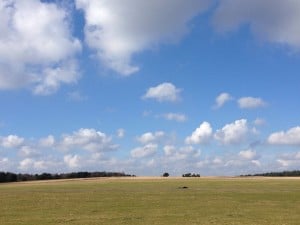 March 2 in Holland.
As shared on FB by Gliding Adventures Europe
www.zweven.eu
Last weekend the meteorological spring started here and ……down under they started their autumn.
Sunday here was like spring- weather should be,even BETTER!
For several clubs it was the beginning of season 2014!
As at Terlet where the Gelderse made the first start for 2014 .
Yes ,Sunday was fantastic with blue skies white clouds and on the ground you could feel the thermal-activity, but also a pretty chilly wind!!!
Thei Bongers from this club flew 116 km.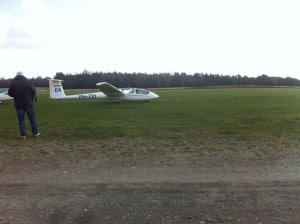 Very first flight from the Gelderse!
Courtesy Max .
AND
the first flight of the brand-new DUO DISCUS XLT.
Courtesy Marion.
But more clubs started their season on March 1/2. Up North in Friesland the tuggies had a job for 31 launches and down South they did 22.
It's all happening again,…..THE SEASON STARTED!!!!
Not for my former club de ZES; their field needed some work first; moles!!!!!!!!
The ACVZ [Amsterdam] flew from their field Soesterberg.
My mates Sikko [Ventus BT/17.6 m] and Daan [ Ventus 2CT/ 18m.] flew 250 km.  and 152 km. Sikko mentioned the cloud base was in the end 1300 m. but a strong wind and Daan tested  his instruments after the winter-maintenance!
7 Flights were added on the Dutch OLC list, so quite a few  "exploring" local flights,to " feel"  the air after not feeling it all winter ,  but that will change when flights are REAL cc-flights.
Germany much bigger than Holland added 54 flights for the Sunday, with comments as " this first day was KLASSE/HAMMER with good lift and nice cloud streets".
Best cross country distance was 362 in a Discus 2T /18m.
No snow in this part of Finland as you can see on this great picture from Mikko Malinimie , who is a professional photographer, shared by one of my Finnish mates Martti, it might be even his son Petri flying in!!!
Petri was a todler when he visited us in Tocumwal!! Time flies!!!!!
So I checked with Martti ……and YES it isPetri flying the plane !!! WOW !!!!!I am getting old! I am old!
Petri is 22 now, a glider pilot now and a tuggy! He even won a day in the first competition he attended last summer.
March 1 in Finland and,…………………………………….March 2 in Finland.
Fabulous pictures!
Autumn in Australia was for parts from South to East pretty good too ,with temperatures still in the low thirties and flights with cu's you could follow where ever you wanted to go!
In the South at Benalla Tobias Geiger flew in his LS 4 an FAI 599.6 km triangle and extended his flight to  a distance of 658.
More to the East,  from Mc Caffery Field , Gerrit Kurstjens flew in his QUINTUS 738 km.
One of the Benalla pilots mentioned;" sky laden with Cu's again – 3 days straight. Go where ever you want."
In the East David Jansen [ASG 29E/18m] who flew together with Sven Kolb [Ventus 2CT] said:" Sea breeze at Bundy is always interesting."
One of the Tocumwal pilots ;" first cross country flight by myself. Will claim silver badge distance with this.
Cloud base at 4000 Toke and up to 5100 at Jerilderie. "
Was like a big kid in a lolly shop."
He flew the ASW 15.Congratulations to Phil Heintze.
The season is not over yet is what I heard a lot!!!
Ingo was invited to fly on Monday with Joergen in their new ARCUS M and as pilot in command he flew from Toc. to the mountains [direction S.E / Mount Beauty] and then back via the W. to Deniliquin; 538 km.
I presume he values the ARCUS M as much as the Caproni, but…. we all know,…the less instruments ,….the better for him.
In the USA ,Florida had a good day as well and several pilots had great flights.400 km in and ASW 19 is pretty good.One of the pilots flying from Seminole, even called it "  a booming day in the sunshine state."
And,…." cu and some cloud streets; got a 5-6kts after 4 on final glide. "
So that all sounds GOOD and HAPPY.
The 56th Nationals in Brasil, from Bebedouro,started last Sunday in 2 classes with 9 and 8 pilots in each class.Small tasks to start with ;for B class , with gliders as DG 400, Nimbus 3T , ASW 20 , Discus and Jantars all with their own handicap; 254 km and for A ,with gliders as ELFE S4, PW 5's and an ASW 21;  190 km.
Day 2 had a 2 hour AAT for both classes but unfortunately there were more outlandings than finishes . No more news as yet.
And  Varese in Italy is this year the host for the International Gliding Committee meeting.This will happen this weekend on March 7 and 8.Lot's of mates will fly to Italy to talk and listen, discuss and take decisions to make our soaring lives good.
Off to Amsterdam CU on Sunday in the CAFE!
Cheers Ritz