A vicious, fast South Westerly , the worst in 23 years, raced over Holland and damaged a lot on Monday.; balance at this stage 95 million Euro! And this will increase!
We woke up that morning with a CODE RED warning.
Still it cost the life of  2 people, one female 21 year old German tourist  killed by a falling tree in the heart of Amsterdam, just before noon, when the gusty wind up to 141 km./h. was on it's worst, very sad.
And one more in the East where a young 22 year old male got a branch of a tree on his head driving his bike.
A lot of injured people [ at least 25] as well.
Trains , several planes [ about 50 departing-flights were cancelled but Schiphol could keep open 2 runways]  and boats stopped at noon and trucks were blown from the highway's up North. Groningen and Amsterdam , both badly hit, advised people to stay inside.
At 13.40 it slowed down, FINALLY, I do not live too far from the coast and it was BAD here!
Worse even on  the Wadden Isles up North, with Bft.12  ;  151km./h.  [Vlieland] and 152 km. [Lauwersoog] , was measured and that NEVER happened in autumn in Dutch history. Around 3,  the wind slowed down there as well. Pffft….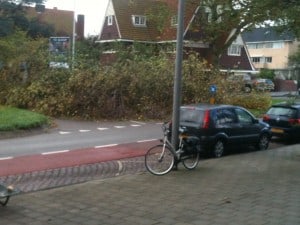 Churchilllaan in Amsterdam , where the most beautiful old and huge tree collapsed blocking 2 important streets.
The canals in Amsterdam where we took a lot of our friends.
Courtesy;  Robbie Hiel via Telegraaf
The UK was  hit first with heavy rain and storm in the early morning .Then the storm raced along the coast of France, Belgium and Holland, [specialy the West and NW of Holland]  and also the top of Germany . After that Scandinavia , with Denmark first, knew that autumn had arrived. Several people died as a result of this nasty storm in France , Germany, the UK and Denmark
I tried to make pictures from the normally friendly calm canal in front of my house. The water was "flying" over the "waves " even with white/foam tops, never saw that before since I live here, even not in 2007 when we had Bft. 11 here as well. Interesting!
But ……I was blown backwards, as the wind over the big open polder, was very strong .
Elke Fuglsang [OLC  and SoaringCafe] and Helge Zembold [Segelfliegen Magazine] have translated the book "Sky full of heat" from Sebastian Kawa, in German. They even created a special FB-site for fans  and,….you can even ask whatever you always wanted to know already from Sebastian on that site and he will answer you .
An interesting wave camp in Czech Rep at KRNOV airfield.
www.wavecamp.cz
On the OLC I noticed some nice flights by Radek Krejcirik in his Discus 2; 813 km. and one day later 777 km. The camp , also visited by some German pilots ,started on the 19th and they nearly flew every day, with on some days good height and golden badges, but also long distance flights as Radek did.
This is an annual event at Krnov and on their site you can find the news from 2009, 10 -11 -and 12 as well.
You surely remember that young Radek finished on spot 3 overall in the Uvalde WGC with 10.526 points.
Some Dutch and Belgium pilots travelled over the border to Germany to enjoy RIDGE soaring. No ridge soaring in our flat as a pancake country, only a bit of dune soaring in October, so Porta Westfalica was the place to be/ to go to.
Here is the story from Alfred Paul,[ via FB]  one of the Dutch pilots;
"What a day, sharing gliding passion with good friends! Wake up 03.15 and departure from Soesterberg airport (Netherlands) at 04.30. Arrival at Porta airfield at 07.45 with already over 20 gliders ready for departure (luckily the towing row was nearly empty). Take of 09.05 and great conditions from the start. Wind SW with 65-95km/h around 500m. Great wave up to 2500m with wind speeds of 125kmh! Last two hours were difficult with several strong shower lines. After holding for 45 minutes at the Ith, I started the return with the last 30km through the rain! What an experience and day! Porta thanks for the hospitality"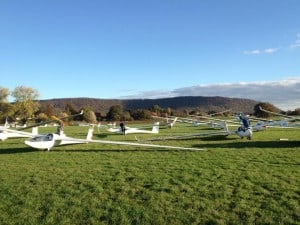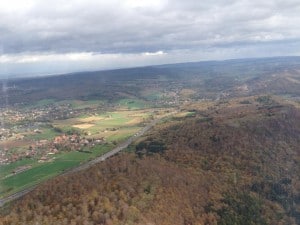 Ready to go and racing the ridges from Porta.
Courtesy Bart Renckens.
My Belgium friends shared a link to their pictures and videos from Porta by Niel Deijgers , just have a look, great stuff.
https://plus.google.com/photos/114418656592856885872/albums/5939520368834868305?banner=pwa
And his blog update;
http://nieldeijgers.blogspot.be/
Yesterday a lot of  German pilots enjoyed those ridges and flew up to 506 km. [LS4] Also Rinteln gave ridge-pleasure and Reinhard Schramme flew 516 km.[Ventus 2cxa /18m]
Good to see the early-season enthusiasm in NZ already. Nice flights up to 515 km from Paraparaumi, Springfield,  Maramata and last but certainly not least Omarama.
The Alpine Flyer October 2013 ,from the Mount Beauty Gliding club is out and to be read at;
www.mtbeauty.com/mt-beauty-gliding-club
AND
From the Perlan Project I got the link to their latest news on October 28 2013;
http://old.perlanproject.org/wp-content/uploads/2013/07/The-Perlan-Project-Newsletter-May-June-2013-1.pdf
Last but not least;
Always love the Omarama picture/advertisement in Gliding International. The November-December issue just dropped on my door mat.
Interesting subjects as ;
—-gliding for the disabled ….."SOARABILITY" [ www.soarability.com ]
—-gliding in Moroco with a nice interview from Markus Geisen, [ who flew in the far past with us in Tocumwal together with the Wiesenthal family] with Bernd Dolba, who not only flies in Kiripotib, but also from Ouarzate. Nice to see Markus is the German Correspondent for Gliding International.
—-why placed the air forces of Australia the USA and Indonesia  orders for 20 DG 1001 gliders? by Aldo Cernezzi.
—–the soaring opportunity of a life time…….flying a glider over the highest mountains in the world, including the very first ever  flight over the Mount Everest . An expedition with Sebastian Kawa, who invites other adventurous glider pilots to join him in November and December 2013.More about this Himalayan gliding project in GI.
As always fantastic pictures from Maria, this time her double spread picture is from Baude Litt turning final at Perry this year.
And much more news . I liked the story from Robert Downe about the "Flying Coffin". www.glidinginternational.com
Just back from Amsterdam, so a bit later than normal. A miracle that all trains were driving again after the storm, COMPLIMENTS to the NS,  but you could see quite a lot of damage and still a lot of delay but luckily not on my track.
Cheers Ritz
on Wednesday October 30 2013!