Great weekend at Keiheuvel Airport, even with some rain, it was just pleasure! No doubt about it. Thanks to all over there, for making us SO welcome!
LÜSSE
Back to the normal blog-style again and time to look at the Lüsse Nationals where German standard and club pilots are still busy with the comps.
We did unfortunately not miss a lot, as the weather was not co-operating over the last days, but yesterday they flew again, after 3 non-flying days.
Last day was Friday with a 246 km racing task for standard won by Achim Reuter just before Mario.
In club a 216 racing task won with a standard Libelle with 80 km./h. By the way 12 Libelles fly in this class, 4 in the top after 4 days! Remains a great beauty that Libelle!
Yesterday 401 km. to fly for the standard class pilots and NOBODY FINISHED!Every day another winner, this time Jan Omsels who flew 210 km! That was very good as in the end, the runner up only had 160 km. Jan , who climbed from 7 to 1 overall , leads now with 44 points on Super Mario, who was on spot 20 today. The overall scores in this class are vey tied!!!! Look at this:
Jan Omsels   Discus b 3963 points
Mario Kiessling  Discus 2 a 3917
Alfred Paul Alfers  LS 8 a 3910
For all scores at both classes;
http://www.strepla.de/scs/Public/scoreOverall.aspx?cID=220&className=STD&dateScoring=20130820
The club class pilots had 323 km and also here nobody finished at Lüsse, only those who returned to the field. Most flew between 100 and 130 km. and the first TP was the "new" airfield! 388 Points for the winner.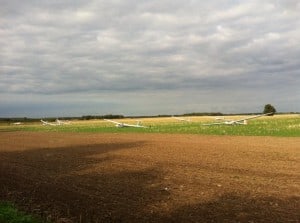 OUTLANDINGS, a lot in one "New" airfield as shared by Swaantje.
 BICESTER [UK]
 The UK 18 m. Nationals are flown in Bicester at the moment with 40 pilots. After 2 days Russell Cheetham is on top overall in the JS 1 , than 4 ASG 29 gliders and than Andy Davis in JS1. A lot more hopefully will happen till end of this week when the weather is good enough!
Yesterday they all went up in the air for 389 km and nearly all of them FINISHED!
Ed Johnston won the 1000 km. before Russell and Andy and Steve Jones.
My friends as Michael, Roy and Patrick were all in the middle bracket.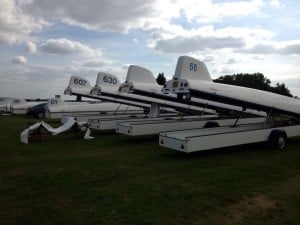 All UK pilots UP in the air.
Courtesy Alix Pentecost via FB.
Czestochowa[Poland]
In Poland they fly the open class nationals with 36 participants amongst them Zbigniew Nieradka but also young Ben Loxton from Australia. He keeps a blog and when you are interested you can read all "in's and out's" from this competition at; https://www.facebook.com/bensflyingadventures?ref=stream&hc_location=stream
—"Just a note to let you know that I am currently flying in the Polish Open class nationals at Czestochowa, Poland as preparation for the WGC 2014 next year in Leszno! – Im putting posts up regularly and will try to put some posts here as well! – Ben Loxton—"
After 4 days of flying no surprise,…Zbigniew [Ventus 2cxa] is on spot 1 overall and good old Janusz Centka [ASG 29] on spot 2. Further on other Polish toppers as Lucasz Wojcik and Karol Staryszsak.
Ben [ Ventus c] is on 15 from 33 ,…for sure NOT BAD!!!!
30 Juniors are flying in the UK [Nympsfield] and in Poland an other 39 in 2 classes from  Lisie Katy , to see who is their NATIONAL best in 2013. Their results are at www.soaringspot.com
Off to Amsterdam now. Over the next weeks I get some overseas guests and due to lack of time and to let my back and neck heal better from not sitting so much behind the laptop , I will publish soaring.eu temporarily ONLY on WEDNESDAY. On Sunday you can read my soaringcafe column as usual. www.soaringcafe.com This Sunday,  an exclusive interview with the new JUNIOR WORLD CHAMPION in standard class Peter Millenaar AND  his parents look back their way. Interesting to read!
2 Instead of 3 must be no problem for you and will be good for me.
cheers Ritz on Wednesday August 21 2013.