KEIHEUVEL.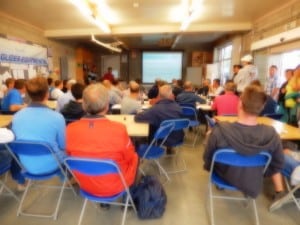 First things first and most important the
WINNERS;
Here they are!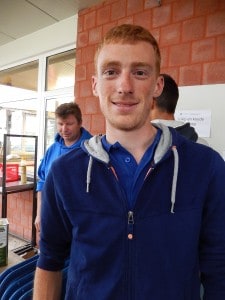 The winner in Sport class; Bert jr. Schmelzer, who arrived in time from Zurich.
The winner in Sport class with transponder; Jeroen Jennen.
The winner in club class Sander Heeren.
 What happened?
As you already knew, I left to visit the Royal Club of Keiheuvel last Friday. A 4 hour trip and looking outside of the train and car windows…. only  SUPER weather; 28 dgr. ,greatlooking  clouds , nearly no wind and  sunny.
Our caravan already placed on a good spot by the 85 year old nestor of the family Huybreckx, [thank you so much!!!]  was already hooked on electricity , so we just could start to unpack, talking and kissing. Quickly we heard that the weather looked better than it was. Anyhow flying-in-pilots made it , the rest came by car and trailer.
A lovely evening with great food in the KEI, the local restaurant from the parents from Jeroen [Jennen] and lot's of friends. Till after mid night we were sitting outside, drinking and as usually old memories revived, a lot from the Sportavia time , as friends as Bert sr. ,Hilde, Danny, Dennis, Tim,Tijl,  Emiel and more visited Tocumwal in the past.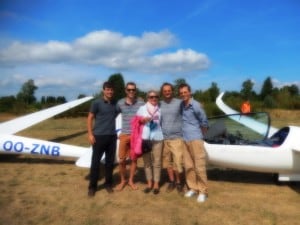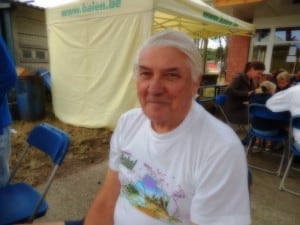 Dennis, Tim, Tijl and Bert jr and Danny.
Sorry about the quality of the pictures. Still not too familiar with the new Nikon.
I took all pictures on portrait!!!!!! Except those who are nice CLEAR!!!
Saturday morning the briefing was at 10. We had rain in the night and early morning, but the forecast for later in the day, was pretty good. A new briefing,  to see how good, was held by the organisers at 12 and not long after 1 PM the launches started by 4 tuggies for tasks between 101 km for club and nearly 190 km in a small window to the S and SE for the sport class and the sport-transponder-class.
It turned out not a really good day, but certainly NOT  a bad day with some strong "legs"; some struggled with the wind, some with the restricted areas. Unfortunately one of the reasons Keiheuvel has only a weekend competition is the terribly complicated airspace nowadays.
We had the pleasure of really "spiffy " finishes, first the brothers Schmelzer at around 4.30 PM, and later  the JS1 and Ventus bt. in formation.
We listened how p.e. Emile de Wachter who arrived in the night from Bailleau, where he still had flown his last day on Friday, started really late….. nearly an hour after the rest, left high at 1100 m.  but too late, as his wife already carefully mentioned, cause some "milky-stuff" came in for a while, making conditions more difficult.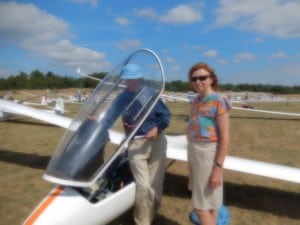 Emile and Godelieve
 Later however the weather improved and pilots finished till just before 6 PM.
BUT,….We also heard that several pilots had to land out or returned to the field, as Emile did.
The ARCUS, which was still flying the day before in Bailleau, with Francois Jeremiasse,[he finished on a nice 2d spot!]  was occupied now by father and son Fred and Mark van Bremen, [Glider Equipment ]  not only competitors, but also sponsors from this competition and another sponsor  was represented by Rene de Dreu in the JS 1. [ Glider pilot Shop]
Money prizes for the winners were donated by the Emsens family and the Albert Schmelzer Cup for the best junior was ready to be presented.
Rene taking the stabilo out and father and son van Bremen, today for change in an ARCUS.
I had a "lump in the throat" when I saw the MS and carefully investigated if it was the MS,  in which Kees Musters won the WGC  in Hobbs.
IT WAS!!!!!
It looked terrific and is owned, after a few different owners, one even in the UK, by Mark van Bremen, who did a lot of work on it, together with pilot-for-the-day Johan Lemmens. It also has been refinished , both fuselage and wings in Poland and looks like NEW.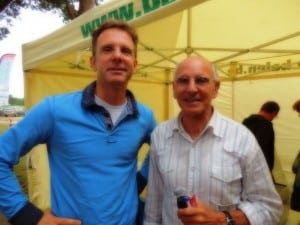 The MS in full glory, flown by Johan Lemmens who flew for the 30thiest time/year at Keiheuvel and Mark and Fred.
Though the temperature dropped after 6 we all enjoyed outside,  a nice grilled chicken with salad,  at the club house called Motelleke. Everybody was hoping for a next day with soaring,  but expectations were low as the forecast was for RAIN. And….it rained. They tried hard with another briefing at 1PM, but it was not meant to be. A great weekend with lots of stories and catching up with " mates."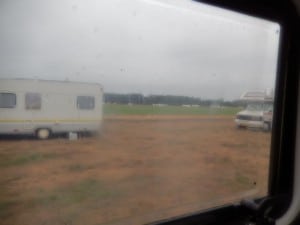 RAIN!!!!
TC from the Belgium team in Leszno Paul Vandenboer and EGC pilot in Ostrow and part of the organisation Jeff Kell[l]
Top pilots enough at Keiheuvel ; as the NUMBER 1 in Mengen at the recent 18m and open class German Nationals, Yves Jeanmotte and his mate Jean Luc Colsson and their partners.
Ken Evens , who was coach in Leszno and father and son Marc [TC in Ostrow for the Belgium team]  and Tim Huybreckx, soon to be father himself.
Tijl Schmelzer [EGC in Ostrow] and Eddy De Koninck and Danny and Peter[if I remember well!]
That's it. A lovely weekend is over. More tomorrow in soaringcafe.
Cheers Ritz.
On Sunday evening August 18 2013.