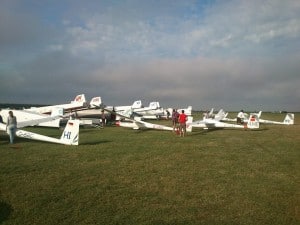 After a thunderstorm the gliders were prepared for gridding at 12 on Wednesday morning
Picture by Leszno FB.
Wednesday; After some thunderstorms in the night it did not look too hopeful, but tasks were set .
Task A: racing task for STD 186 km.Task B: STD 151  –
2 hour AAT for the CLUBBIES!
Task C: Paintball contest at 17PM.
During briefing" the light was directed " for a short while on Narromine the next stop for the JWGC in 2015.
Then it was waiting, changing tasks and ,…starting but before the standard class could pass the start line,….. their day was cancelled, they had to come back and land again. Confusion, but the message was ; return to the field without delay.
Clubbies went on for their small/reduced task; 1.30 AAT.
A very tough day .
In the end they ALL landed somewhere, luckily not TOO far away from Leszno! At least 13 should be over 100 km. and that did happen !!!!
Even 21 got over it!!!! Well done!!!!!!
Petra from Czech Rep.  [ who has some Dutch fans and for good reasons] won the day with 130 km. and really deserved the 192 points. Hana also from Czech Rep. flew together with her and ended on spot 3 with 187 points. The girls had a good day!
Unlucky day for Benjamin Vades from France who missed area 1 by 500 m. and dropped from 3 overall to 5. Luckily the points were not expensive ; 50 penalty points and a score for the day of 58 points.
Good thing; all outlandings were OK and everybody was home in time for a good night rest.
Some were spoiled as Belgium pilots Jeroen and Neil who got pizza delivered!
pizza dinner in the paddock!!!!
As shared by Team Belgium
On Tuesday  2 interesting stories about how it was in the air by the pilots themselves. Specially cause I know not a lot are on FB.
Here is from South Africa Iain;
–"A shocker of a day. Battled from start to finish. After a good first leg things started to come in stuck in the second. Day started to shut down and had to take weak climbs to stay alive. Third leg got even worse with the speed over 50km dropping to 30kph as myself and the Czech team worked a 0.3m/s thermal for what seemed like ages. Eventually climbed onto final glide at the last turn. My Nav then decided to pack it in. Luckily not to far from home. Learnt a hell of a lot today and sukkeled like never before. Ended up last out of those that got home putting me down at the bottom overall. A few more days to go so we will see."—-
Yesterday Iain had a much better day , though it did not give him a lot of points[ 185] he surely must be more satisfied with this flight being on spot 7 for the day.
And here is Aussie pilot Matthew;
—"Today was meant to be 3500ft building to 6000ft, totally blue until 5-6pm but instead we had very scattered cu at 7000ft and tremendously variable climbs in the blue. It was forecast to go late, but from my reading it was going to shut down early again, so we'd planned to start early but simply couldn't get to cloudbase when we wanted to. The cu's would last a couple of minutes before starting to decay, and the bubbles were just a few thousand feet tall and even if you caught one it'd cycle completely before you reached the top of it. Ended up starting a little below cloudbase with a good group for a great run through the blue and under the scattered cu towards the trough line in the distance. As we approached the trough (over 100km out of the task area) the climbs were stronger and stronger, up to 6kts at time, but with such short bubbles it was tough to keep with the gaggle. At the turn a miscommunication lead Eric and I to lose the gaggle and …we pushed on by ourselves in the blue, now away from the trough and ended up pulling in a thousand feet below the gaggle. Missed the bubble and ended up having a low spot, but the gaggle was having trouble too so I kept just one climb behind. Some pilots snagged a monster climb up to 7000ft in 7kts, but quite a lot of us stumbled around to the next turn at 2000-3500ft. I ended up catching the Dutch and the Czechs enroute to the last turn by consistently taking 1-2kts while they kept pushing looking for something stronger and often ended up taking 1kt, but 40k out from home they finally hit one and had a decent climb which I missed. With conditions rapidly deteriorating (climbs mostly 1kt to 2000ft) and total cirrus cover advancing quickly and less than 10k away, the gaggle just stopped in 0 and it became a waiting game for who'd push on and find the next climb. I was the lowest, so when the bubble ended I had to lead out from 1500ft and didn't find anything until 0.2kts from 750ft, which very slowly built into 3kts up to 4000ft for a slender glide in thankfully dead air. I was punished heavily for being 1000ft lower in such a weak climb and finished considerably later than the rest of the gaggle, but with the germans and a pole both hitting the deck I was quite happy just to get around and picked up half a dozen places for it. The trough is just about to pass over now, so glider's boxed. Not looking forward to rigging in the forecast 36c tomorrow!!—"
From the USA I got the message that there are "whispers" of  a soaring segment on the AVIATORS .
–"Psst, GLIDER and SOARING fans… we're thinking of releasing a complete segment as a season 4 FREEview… and the one we're considering is our long awaited Soaring segment!
But the decision isn't made yet and we think the producers could use some encouragement. How about some comments and Likes from you soaring enthusiasts!!!!!–
To make the blogs not TOO long, I try to publish a bit more during the last days of the LESZNO JWGC. So keep looking.
cheers Ritz on Thursday morning August 8 2013