LESZNO !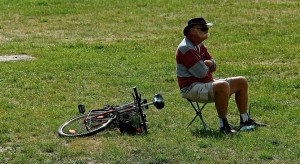 Waiting! TC Bob from the UK.
courtesy; shared on FB/ UK site
It was a long "wait" again on Wednesday as the wind was tough with 25 kts. and some showers from Germany had to pass by first. Launches were postponed till 2 PM.
Time enough for Katja to post some pictures from all flags. Nice! Here is one of them the most important;
The day continued with , chairs , tables and tents blowing away whilst the pilots hung on  onto their gliders and as one of the teams mentioned:
"What did we do today ?
Went to the briefing, rigged the gliders ,went in grid , got a A and B task , waited…. Then it rained, waited some more… got a C and D task, standard class got cancelled and 30 min later club class also…"
You can't say they did NOT try. A pity though , but we could already see that the good weather was around the corner!!!!
 "We are promised three good days when this system clears."
So both classes cancelled on Wednesday. After pin pong swimming and afternoon naps, video/movie time for a chance!
A great picture from the South African team. I had to laugh when I read that Iain killed his time  "killing flies with a shoe. His current tally is 40."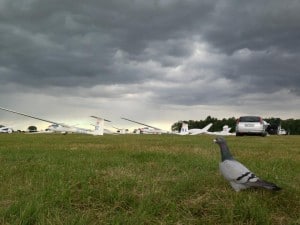 At least the bird will fly today !!!!!
Thursday; yesterday there were high and well-founded expectations for flying in both classes; the meteo maps looked good and as said before , "it was promised".
So tasks in BOTH classes 249 for club class as A and a B task for "when necessary", not smaller BUT bigger 260!
It turned out to be the 249km. task and that was already pretty difficult for some; 5 outlanded!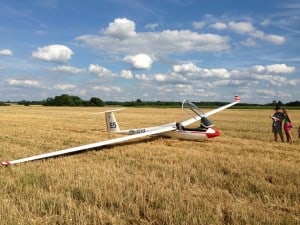 One of the Dutch gliders.
Courtesy Dutch site.
French pilot Benjamin Vades won the FIRST day from the JWGC in club class and got 809 points. In the top 10, 3 French pilots, 2 Dutch, 3 German  and 2 Italian pilots.
Standard class got a 3.15 AAT [ 290.9km/467.9km (375.5km)]  was 3.30 first  and 9 pilots did not finish!
It was a Swedish pilot who won the 2 day of this class; Simon Landquist. Good on him!!!
He flew 337 km. in 3.16, speed 103 km./h. Peter Svoboda was 2d and Peter Millenaar 3d. He leads overall after 2 days with 12 points on Simon and Peter S. is 3d.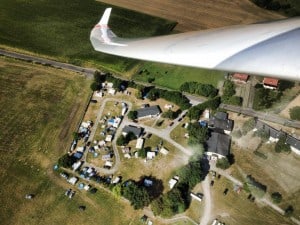 Nice air shot as see on the Dutch site.
All in all not an easy day as you can see;
" It was n't exactly the epic day we were hoping for"  UK team.
"Rough day today.100% spread out around the start and along the first leg made for some very tricky conditions.  Everyone seems to have experienced the same appalling conditions (except the pilots who started extremely early), but the pilots who took the strong climb at the power plant had a big jump on the rest of us who were working 1-2kts for the last 120km."
Parts from Matthews blog so Australian team for the rest of the story about their day you can read at
https://www.facebook.com/MatthewScuttersGliding/posts/492248880866698?notif_t=notify_me
"Our Juniors had a very difficult day, all had difficulties getting up to comfortable altitude and missed the good startwindow. When they got past the startline, it was already too late. Weather deteriorated and they never got back in their rhythm" Belgium team.
The day finished with the INTERNATIONAL EVENING, always a top event.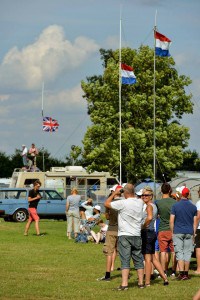 Eager to see who comes in first.
UK team and Dutch team…..POMMIES AND CLOGGIES…. friends as long as I am in gliding.
courtesy Rob Millenaar.
Today Friday tasks .
Clubklasse 4h AAT (263-522Km)
Standard class 372 racing task. A task changed later into B task, same distance but they stay more to the East. 18 Minutes after 1 PM the lines were open for both classes! Long day for the clubbies! AND a BLUE day! Dry thermals, not for everybody easy, but clouds in the East.
Lift about 1.5 average in the beginning up to 1300m. , and as expected with a blue sky ….gaggles!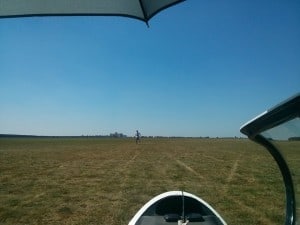 Blue day, very blue!
As shared by Matthew!
While waiting some nice pictures from Katja
Some need more naps ,some concentrate on the "job in the office".
Nice Libelleke and where would we be without the TUGGIES!!!!
Well ,….on the hottest day in 5 years here in Holland, I tried to keep an eye on "things".
Good day in Leszno. Peter S. [Czech Rep] won the day whilst Peter M. [Holland] was runner up… talking standard class.
After 3 days Peter M is on top , Peter S on a 2d spot and Jacek from Poland on 3. AND,…don't underestimate the German boys Enrique and Alexander busy after a bad first day on a race to the top.
On a blue day you should not miss the boat by doing too much alone. By the way, Ingo Renner was one who had no problem with that!!! But that's  history for these young ones!
So gaggles till the end as you can see on a great picture by Jacek Lewinksky as shared by Patrick Stouffs. By the way,….what a great photographer!!!!!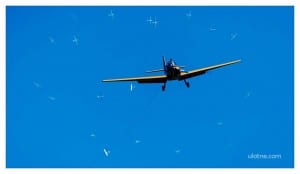 you have to double click to really see this picture!
courtesy Jacek Lewinsky.
The clubbies had a big and long day! But ….they were ready for it. Luke Dale [ family from G Dale] and Matthew Davis [son from Andy, if I remember well] from the UK, had a great day flying together and "deserving" the 1000 and 986 points; 330 km. in 3.57. Another good Swedish pilot David Gustavson on spot 3 , Italian pilot Claudio on 4 and then Ard, Nick and Stefan from Holland with Jeroen from Belgium in his libelle on spot 8 with more kilometres but also [much] more time;4 hours 32.
3 Outlandings and 6 not yet scored. All scores of course preliminary. German team was happy, Dutch team was happy, UK team was happy, all "happy chappies". Belgium mentioned "winning by not loosing", so happy enough too!!!
will be continued!
MENGEN!
They were a bit more lucky in Mengen with the weather on Wednesday. Not that it was SUPER,  but good enough for a speed of 124 km./h. for Michael  who won the day with 410 km. in 3 hours 18.
As said they had 2.30 and 3 hour AAT's and the day turned out much better than hoped for/forecasted.
Runner up was Tassilo. who flew together with Michael. They started both reasonably late  at 12.22 [only Patrick Puskeiler started later at 13.06 but ended up on an 18th spot.] and finished together 1000 and 990 points for the day.
A bad day unfortunately, for Uli who finished as number 23 but still is on spot 2 overall, with  33 points ahead of Tassilo AND young Patrick Gai was only ONE point behind Tassilo. All fly an EB version. Nice to see Bruno [ Gantenbrink] is still competing too, he flies the ETA.
In 18 m. "only" 830 points for winner Sven Weiland [ASG 29 E] flying 314 km. in 2.34. Yves was on spot 3, but is still strongly leading the overall scores. Werner was on spot 13 , but was still on spot 4 overall behind Robert and Jean Luc.
Only 2 days to go and they looked good!
Thursday; yesterday 487 km for open and 463 for 18 m. that sounded better. Bleu thermals were predicted , but also occasional cu's. Temperature 34 like we have in Holland today!
In open  Michael won again;906 points. Uli had 905 and Tassilo 902!!!!
In 18 m. Robert was on a good 2d place , Yves at 5 and Werner at spot 9.
FRIDAY LAST DAY!!!! Another HOT day , we all get nice warm tropical African wind bringing African temperatures.
Last day had good tasks to make up for the 4 non flying days; a 3 hour AAT for open who started first and 2.30 AAT for 18 m.
So after 7  days nothing is decided in both classes. On this day 8 they all have to fight to keep their place or to get higher, though with 300 points ahead of Uli and 344 on Tassilo and knowing Michael, he would be absolutely not giving that away. Who wins the silver , who the bronze????
In 18 m. Yves will be most probably the WINNER , not the German Champion as he is from Belgium. So who will be the CHAMPION??? Robert [4886] , Werner [ 4794] or maybe Claus Triebel [4661]????? We'll know later.
At 13.24 the open class pilots could start, line was open. After winning day 2 Ewald Bombelka raced in his Nimbus 4 M over 349 km. in 3.17, so a 2d day-win. Patrick Puskeiler also in Nimbus 4 M was runner up, but both were not fast enough to make it difficult for Michael who is the new GERMAN CHAMPION with 7014 points.
Good runner up Uli Schwenk with 6668 in the EB 29 and Tassilo is 3d with 6633 points. Bruno with the ETA finished on a nice 12th spot. Young Patrick ended on 7 overall, loosing 105 points today with a 16th place.
In 18 m. Claus Triebel won the day with 289 km. in time 2.34.  Robert was 2d so he will be the new NATIONAL CHAMPION in 18 m. Yves , from Belgium, won however, with 5939 points. Robert had 5707 and Werner Meuser still going strong, is on spot 3 with 5566 and Claus on 4 with 5489.
Interesting competition AGAIN to follow!!!
And a message from Australia; "560km done in the middle of Winter out of Kingaroy."
No more words needed! Maybe only who did it?  David Jansen, who flew the last WGC in Uvalde ,  in the ASG 29E/18m.
That's it for today, do you know what's VERY interesting…..the INTERNATIONAL HACKERS festival is here in Holland!!!! 3000 " Nerds " have their tents and laptops close to Alkmaar.
Will be back on Monday , have Australian guests for the weekend, so will be busy!!! CU on Monday.
Cheers Ritz on Friday August 2 2013
www.soaringcafe.com    www.glidinginternational.com