IT'S ALL  ABOUT THE WEATHER;
CANCELLATION OF DAYS ,
BUT ALSO 1.750 km.
THAT'S SOARING!!!!
I left you with the message that in Holland,  the Wednesday,  would have a GO or NO go for flying ,at 13.30. And,.. when you really try to make it a valid competition with 4 days you have to try everything within safety rules. That happened look at this and compliments to the organisers. The message arrived and was;
runway  22R, box will close at 14.30.Briefing at the field , tasks at yellow car at 14.45.
That sounded pretty good and I believed it straight away,  as here in Alphen  the weather at 2 was reasonable, after tough rain showers in the night and morning.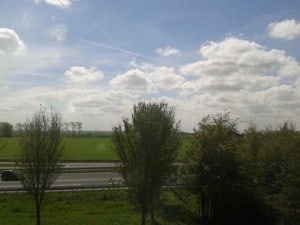 About 30 k. N. from us about the same weather as we had! As shared by Jeroen Beeke on FB.
If we were, as fore-casted , to have the dry weather in the W. first , the E. maybe would have another window to fly in later.
Club got 106 km. Combi  km.  117.3 km and 18 m./open  zero [0]  km.
First launch at 15.00!
What happened???
They cancelled open class/18m. BUT,….the other 2 classes had a go! Pilots in club class started  just after 5,  like we saw at Hahnweide, no problem, when the skies are good and the expectation that they stay good for atleast an hour is there!
You know that NOT every pilot will finish but when a few do , the organisation is "correct"in their decision.
3 Pilots in Club made it back and I guess they did n't worry about the 70 points they received for the day!!! Frank [ St. Cirrus] won and took revanche on himself, when he outlanded as the only pilot in his class the flying day before. GOOD on him; speed 73 km./h. Junior World champion Tim Kuijpers [LS 4] was on spot 2 [speed 75.2 km./h] and Hinse Osinga [Pegase]  , a member from a Dutch soaring family, was on spot 3. [ speed 73.4 km./h] The rest , applauded the finishers as they did choose NOT to fly. After 3 days the result was a TOTAL of 794 points for Stefan Telkamp, 723 for former European champion Rene de Dreu and 705 for JWGC champion Tim Kuijpers.
In the combi class who else then Steven Raimond would make it home with a speed of 50.3 km./h . He got 102 points!?! Together with 2 other pilots , Peter Millenaar [Discus 2A and a  speed of 50.2km./h] with 104 points  and Peter Batenburg in the ARCUS , 115 points [ 63.5 km./h. 115 points] he finished. This was also the TOP -3- overall result till than; 660 for Steven, 655 for Peter M. and 595 for Peter B.
Thursday; cancelled. Rain, forecast for thunderstorms in the E. and gusty wind. No weather to fly, not even at 5.
Friday last day; a valid competition in club class with a CHAMPION was still possible. Combi class had 3 days of flying but one with NO points[unvalid day] , so there will be a winner in this class, as well as in open/18m.
Briefing was postponed till 12.
And then,…the message …..video [The Sun ship Game] at 3 with free beer sponsored by Glider Pilot Shop.
So that was that!
The Dutch Nationals were over with ONE good day and 2 marginal days.A pity!!! NO Champions this year but WINNERS, but, last years winners continue their title for a year and guess what , they were this years winners; Stefan Telkamp, Steven Raimond and Ronald Termaat.Congratulations!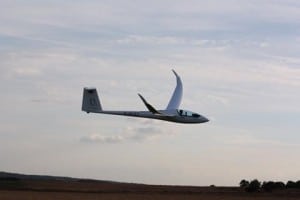 Jeroen Verkuijl finish! Picture courtesy Willem Den Baars.
NO words needed. The difference between the first day of the Dutch Nationals and the last day!!! Courtesy Frank Hiemstra!
The Danish pilots had NO day on Wednesday [ cancelled again]  , but were most probably still enjoying their , till that time  ONE AND ONLY,  soaringday! Arne shared again some pictures on FB [from  Luise Bruen] , which is really nice of him !!!!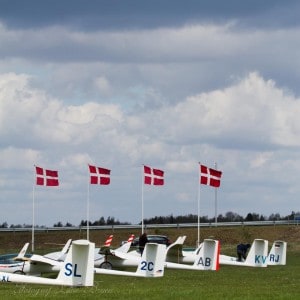 Arne ready to go on flyingday 1 [day6!] and Peter having fun.
BUT….there was a day 2 ,….like in Holland. Being brave as a CD, you have to take the weather as it comes, but you should  use every window possible! As long as it is not a real lottery and as long as you can send pilots on track in a safe way!
So day 2 showed 3 times a 2 hour AAT. ……. Ole Arndt won the day , being the only one flying OVER 100 km. [112] BUT,..it was no valid day, so 0 points for doing a good job!
In Standard Class also one just over 100 [100.4] for Jan Andersen. ZERO points!
In 15 m. NOBODY over 100 km.
In 18m. Per Giskov flying the Ventus 2CT, flew a remarkable 158 km. , but also 0 points, though Henrik flew 132 km. not enough over 100- km -pilots, to make it a valid day.but good soaring from a few , no doubt about that!
Also in the 2 seater class one pilot in a Duo Discus T with 108 km.
As Arne said : "Defeat …..and out comes the turbo – after nearly 3 hours on task and only 83km! but want fun and excitement. Alas only two made it past the meagre 100km so the day was invalidated."
AND,…..they had a valid 2d day yesterday WITH points over a 2 hour AAT!!!!!! 468 in club class for the best pilot,546 in standard, 583 in 15 m .,  499 in the 18 m. class and for  the 2 seaters, 600.
TODAY is the last day , maybe day 3, let's hope, wait and see!
From Denmark to Sweden is not so far. Yesterday the Uppsala Masters started at Sundbro Airfield, with a lot of well known pilots! Specially Börje did a lot of PR  on FB to get a lot of pilots there, mentioning everybody individually after they applied. Compliments for the way he did that,… full of enthusiasm!
Officially this was the invitation;
—"We kindly invite all glider pilots and their support teams to the international competition – SM Masters the Swedish nationals in Open and racing classes. Contest is open for all nationalities. The Racing class is a mixed class where all gliders with index from 107 to  114 can take part. Water ballast is allowed.  We will use DAeC index  list.–"
50 Pilots have entered amongst them young Aku Jaakkola and "a tad older " ,…Antti Lehto from Finland. Also some pilots I met during WGC's as Torbjörn Hagnander , Göran Ax  and Ake Pettersson. Looking forward to these MASTERS!
Day 1, after 2 practise days [ 1 cancelled] , yesterday was day 1 and also in Sweden the weather was not top. BUT ,..they flew and good old Göran Ax won the day and only saw one other pilot finish; 154.5 km in 2 .18 giving him 233 points. In racing class one finisher , not enough to make it a valid day.
While we were suffering from bad weather the SE of Germany , Poland and Switzerland had temperatures  in the 30thies on Wednesday and the Alps created TOP weather and a FÖHN wind.
15 Over 1000 flights, mostly in the Alps! The one in the Quintus by Mathias Schunk is just SUPERB!!! The first 50 flights on page 1 from the OLC that day are all OVER 500 km. except for one; 498 in the Duo Discus. Not bad!
Then there is THURSDAY; Again Mathias Schunk in the Quintus, this time 1.750 km. !!!!!!!!!! He tried and set a task to fly a European record but unfortunately the 3d TP was in rain. Still a European record for a free flight in so to see great wave/föhn conditions. Not bad! Topping the OLC- list with nearly 1000 km. more than the 2d pilot on the list with 855 km. More news about this longest flight-ever,  in Europe from Mathias on www.soaringcafe.com written in a good and interesting article by Helge Zembold.
And yesterday looked like a Bitterwasser- day on the OLC, but  now in Europe.
Bert jr. from Belgium was one of the pilots flying from Hausen an Albis a declared 1000 in the Discus 2; " Declared Out-and-return of 1.000 km.  What a fantastic day !!"
18 over 1000 km. flights. One from France in the STEMME with Klaus Ohlman, 1.530 km.;  the rest from Switzerland , Germany and Austria. Look for all those great flights at the OLC site.
CU,  cheers Ritz
on May 19 2013
ritzdeluy@hotmail.com     www.soaringcafe.com     www.glidinginternational.com