On  Thursday  May 9, one day before the Dutch Nationals started, pilots flew nearly 700 km in an LS 8 and Ventus 2 here in Holland as well as 543 in a St. Cirrus , though Bart did not make it home ,…but still. The weather -gods presented after that day , typically Dutch- Nationals -weather .
Also this beginning of the week with " low's"  around us was unstable ,  with a NW stream bringing on top of that cold temperatures.From tomorrow onwards it will be warmer, good for those who suffer in their tent during the nights at Terlet, but it also looks like the rest of the week will be WET!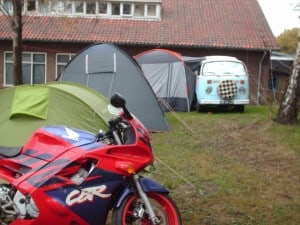 Small camping for organisers behind the briefing hangar!
Monday was a day with …..yes,  a window or ….no,  no window. With a second briefing at 12, posponed to 13.00 and still hope for a "window" , but in the end the day was cancelled. The "window" here arrived at 6 PM.
Nice pictures on FB that day from Frans Guise from the really good BBQ we attended on Saturday night with about 80 other friends, as you can see! Great night!
Inspection by CD Natasja first , than dishing out, with Ans, Bas and Inge. Pictures courtesy Frans Guise!
Yesterday was another window-day. Still only ONE valid day for the combi class and to make it a valid competition for them they need 3 more days. Last day is Friday , so a bit of pressure is on, but nothing is impossible, as we all know. And,…you can't say they did n't try!
Open class was cancelled , club and combi had to go for a 1.30 AAT .
At 3,  I got the "a bit-sad-sounding-massage"; the day is cancelled for all classes. A pity!
A bit of a dark morning as well there at Terlet, as there was for some time a power failure, so no coffee or tea, no internet ,no light ,no "nothing", but that gets the best out of some.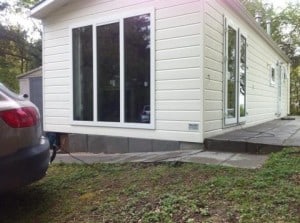 They had coffee and cake!
From TODAY it should be better weather, as is warmer……. but more RAIN, clearing in the afternoon from W to E! No tasks yet , SMS message with a YES or No at 13.30!!!
Last Sunday was Paradise for wave and ridge pilots in the USA .
What about 1.412 km. in an 18 m. ASW 28 with 152 km./h ?????
The flight was from Ridge Soaring.
And 1.335 km. from Knoxville in a Discus 2 is pretty good too!
—"No problem thermaling upwind, ran the ridges and thermaled the few gaps to get to the Tazewell, VA. area"–
It sounds too easy but this is a sentence from the story from Linwood Stevenson, who described his 1.335 km. flight on the SOARINGCAFE-site. He flew and declared 1.263 km.!!! Interesting story to read!
A total of 7 over-1000km. flights ,from them  5 over 1.100 km. Over 1000 k in a junior [SZD 55] or Janus C  are remarkable as well, even in " steady ridge".
Baudouin Litt had a good one again too; in the LS 8 he flew from Mid Atlantic 1.153 km.!!! His comment; — "No water and one gear door opened for the whole flight (hence the noise marks on the barograph, LBL does not have an engine)! Probably my last big flight before I return to Belgium definitively. Very nice day!" — A bit of a milestone flight for Baudouin , is n't it?
So Sunday was for some a good day for gliding, also in Italy [955 km.] and France [867km. ] and even  in nearly-winter-time in Australia Allan Barnes flew 562 km. —"Great day, max height 7000ft, great cus all day, just fabulous for this time of year. Another 500km added to my collection _ I'm trying to do one in each month of the year!–" Wow, a great resolution!! "Only "  434 flights that day , guess not every dad was allowed to leave on Mother's Day. Never saw , by the way, so many people walking at the station with flowers to go to MUM. Good day for flower business and the railways.
FINALLY,…after 5 cancelled days the organisers could set a task during the 2013 Danish Nationals at Arnborg,  where 58 pilots in 5 classes had to be VERY patient!!! But patience was rewarded with good tasks on flying day 1,…FINALLY!
Club class had 234 km and Felipe Cvitanich won in the ASW 20 the first 915 points of this comps. The class counts 16 pilotys and had one outlanding. Ole was 10th.
Standard class with 7 participants was a prey for Jan Andersen flying the LS 8 291.7 km. in 3.09 , during the set 3 hour AAT.Don't know if this is the Jan Andersen , lways flying at WGC's in open class, if yes it seems …..he is still good! Nice family too. One outlanding .
15 M. Class had a 3 hour AAT as well and the 15 pilots in this class all finished. Amongst them Stig Öye at spot 3 and Ib Wienberg on spot 8.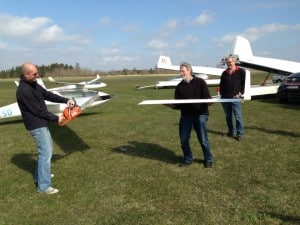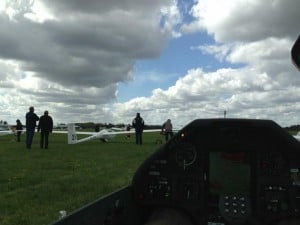 Stig in the middle , rigging the glider with some friends and ready to go as shared by Arne.
18 M. class with 12 pilots had a 3 hour AAT too and Peter Eriksen [ASG 29]  , flying 341.5 km in 3.05 won the 1000 points, chased by Arne Böye Möller in the Ventus 2CT;951 points. Henrik Breidhal  [ASH 26E] was on spot 6 with 880 points.
Double-seaters were part as wel flying 234.5 km. and the Duo Fiscus without a turbo from Thomas Leander , [all other 7 gliders in this class have a T behind it ] won the day and the 810 points.
Hope the organisers will be allowed by the weather gods to give them some more good days.
No tasks for today set YET.
Uvalde as seen by Anita Taylor in Uvalde ;Bruce and Arne.
Also Uvalde ; Wonderful Danish ladies, wife , sister and daughter from Arne!!!
It's getting boring, BUT,..the weather was not too good in Belgium either for the pilots who wanted to fly for the Kempen Cup. A competition flown over a few weekends at different Belgium  airfields, this time Weelde.
From 4 days only ONE day could be used. Junior competitor Jeroen Jennen prepared well for Leszno and won the day over 274 km. in his LS 4,  ahead of  his cousin,  Tim who was runner up.
Jeroen is trying to find a glider for the Belgian Nationals; Any ideas????
—" currently looking for an LS8 or d2 (no turbo) to fly the Belgian Nationals (25th mai until 02 june) for a reasonable price."—
38 Competitors in this class and 59 in total over 3 classes!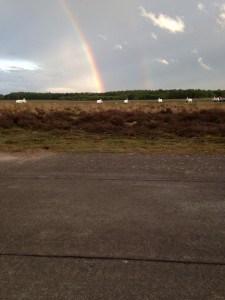 Weelde Airport in Belgium. Courtesy Jeroen Jennen via FB.
You remember maybe that I wrote about the ZES lustrum I visited. During the Nationals,  the ZES presented a flyer with another item of their 50-year-celebrations; A FLY IN somewhere in a paddock. This paddock will be changed for ONE day into a soaring field and everybody can fly in. There will be a BBQ, a bon-fire, facilities to camp for one night, a party with booze and music, with other words a real UNIQUE celebration! This summer-camp- day  will be on June 22 , and when this day is a "non-day", it will be on June 29 2013. It is special and only for Dutch pilots. More news on www.zweefvliegen.nu and all guests,  who always wanted to taste the hospitality and atmosphere of a student aeroclub can do so on June 22. I know,…it is GREAT fun!!!! Never forget our camps in the past, great fun!!!!!Only 45 pilots are allowed at this unique event and after a wild party and a short night there will be NO launch facilities so abe aware of that. You can read it ALL on their site under weilanddag.
Another playful event in this 50 year celebration is flying a task in the shape of the 6 between May 11 and June 22 in the middle of Holland. All flights will be on the OLC and there are prizes to be win for the most special 6-shape-flights. Prizes will be presented on the PADDOCK- day on June 22. The TP's are on the site to be down loaded and the flight can be part of a cross country or just the 6. You have to be a student or a former student, to think about such nice events.
Cu next Sunday cheers Ritz
on Wednesday May 15 2013
ritzdeluy@hotmail.com      www.soaringcafe.com      www.glidinginternational.com