Finally a real nice weekend for pilots in most parts of Europe, Japan and the USA. The weekend-off was definitely NOT  a weekend-off for glider pilots.
On Saturday 1468 flights were added on the OLC and on Sunday even more; 2381  amongst them 24/24 from Japan and 121/170 from Holland, which is rather special.
Germany enjoyed the great spring weather with a 500 triangle [extended to 596 km.]  in an LS 3a and lot's of flights over 600 km. up to 950 in the Nimbus 4M.
In Italy Giorgio [Galetto] flew from Bolzano 708 km.
The USA had on Saturday a 671 km. [625 triangle!] by Danny Sorensen in the Discus. And …Austria the just over 1000 km I mentioned last Sunday from Rainer Chronjäger.
Luxembourg with Guy Bechtold ; 804 km. and 990! He past  S. from Holland .
The 2 Belgium young Libelle pilots Neil and Bert with nearly 700 km!!!! Comment from blogger Neil; "Great flight with Bert! Good weather with strong thermals. The return from Hogeveen to Terlet was in an other airmass with a lot of moist. To finish a looooong final glide love it !"
The message on FB from Swaantje Geyer on her way back home from Klix said it all. She was one of the pilots flying with poor weather circumstances in  KLIX and before she was already unlucky with the weather in Nitra, but what can you do!?
A pity as we had great weather in Holland and the N. of Germany was good as well, but a bit more S. it was n't .
—"After having waited over a week for flyable weather and getting 2 days with marginal distances and 2 outlandings of course I would love driving home unter a 750km sky !!!!!!!!!"
It was for sure better for Thomas Pflug, who flew the LS 7 WL during the KLIX comps to a nice 4th overall-place during their 2-days-comps. BETTER as in, …..flying home from Klix to Boberg, direction NW a great goal flight from 407 km.
http://www.onlinecontest.org/olc-2.0/gliding/flightinfo.html?dsId=2948666
Hahnweide; THE place for one of the oldest comps in the world. Close to the Schempp-Hirth business at the airfield of Kircheim Teck, this competition has started with as tasksetter Marc Puskeiler  on May 3 and continues till May 11.
Day 1 was cancelled in all 5 classes , BUT 2 was a nice one with in the 2 seater class 17 from 24 finishing the task of 352 km. Winners on day 1 Ludwig Starkl from Austria "combined" with Holger Karow from Germany  in the ARCUS E. In this class one DG500/20 m., one Janus b and one c , 8 ARCUS gliders type E,T and M and the rest flies the DUO  DISCUS in the variety "normal" , T, XLT and X.
BIG names in open class with as winner of day 1 young Alexander Späth in the NIMBUS 4, followed by French also still young Killian Walbrou in the NIMBUS 4T and the Belgian , mixed -in -age- couple , Arnaud and Pierre de Broqueville in the EB 28 Edition.
21 Pilots in this class some I remember from YEARS ago as Uli Knauss and Cornelius Voloschuk .
In 18 m. 39 [also international] pilots and 33 finished on soaring day 1. In this class the Belgium brothers Bert jr. and Tijl Schmelzer [spot 6 and 10 for the day] , members from another real Belgium soaring family and there are more , lot's I do not even know, but of course  the Stouffs family and the Litt family are amongst them. Mark Holden who won day 1 , Steve Jones and Russell Cheetham from the UK, are at the Hahnweide as well.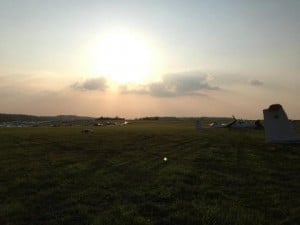 Hahnweide after day 1, making Bert jr say;" More of this please"
In 15 m. class with 11 participants day 1 was THE day for the UK pilots they topped the class with Timothy Scott, Phil Jones and Matthew Cook, flying the 384.6 km with over 100 km./h.
In standard class 25 pilots and I told you about the Huybreckx family from Belgium, Dennis finished as number 4 in this class on day 1.
Day 2 , yesterday; before the rain dropped all pilots were back home. Smaller tasks and different winners in each class except for open class where Alexander Späth has his 2d day- win.No too much points to gain and not too much to loose, that is in short day 2.
Today [Tuesday] the 15 , 18 m.  and standard class will fly only and before start the gliders  will be lined up on the taxi way before starting from runway 25, as the grass is still wet from the rain.
You can follow the results on the next link, as I will be gone for a few days. Pretty straight forward results , as always on Hahnweide.
http://www.wettbewerb.wolf-hirth.de/wertung.php
FATRAGLIDE started on May 4 with 52 competitors in 2 classes. In the combi class day 1 only had ONE finisher Lubor Kuvik [648 points] flying the AAT from 2.30 in 3.04 over 249 km.!!!! All other pilots outlanded.
On day 2 , a task was set from 211 km. and this time Lubor was on spot 6 . He flies the ASG 29 e/18m.
In club class 24 from 30 pilots finished their AAT of time 2.30 on day 2 as day 1 was cancelled for this class . Best result; in ASW 15 a time of  2.31 over 197 km. Agnete Olsen from Denmark was on spot 14 for the day flying the Libelle!
Pictures I got last year!
 In Arnborg in Denmark some friends are participating in the Danish Pre-DM 2013, and one of them won day 1 ; Arne Boye Möller with a speed of 116.km. over 243 km. 23 Pilots , amongst them Stig Oye, Peter Eriksen , Ole Arndt and Ib Wienberg fly in one mixed handicapped class.
On day 2 they enjoyed the nice weather as well with a 3 hour AAT. Winner of the day; Mogens with 319 km. in 2 .57 in the 15 m. Ventus 2 CT.
The Female French Champions 2013 are on this week as well with 13 ladies and parallel with these comps the 18 m. class is flying in Buno their National Competition as well, with 24 participants, 6 HC as they are from Belgium or the UK.
They can win but of course not be  the French Champion!
In this class 11 ASG 29 gliders, 7x Ventus, 3 x 18m version of LS 6 , 1 JS 1, 1 ASH 31mi and 1 ASW 27.
After 3 days Gilles Navas topped the list with 16 points difference on runner up at this stage, Alain Mazalerat.
THE LADIES had 3 days of soaring as well; Jutta Sturm won day 3 and is at this stage with 1565 points leading the groupe in the Ventus 2A. But ,…only 37 points ahead of Sabine Dieulin in Discus 2A. On day 1 all ladies visited the cows meaning all had to make an outlanding.
In 18 m. 8 pilots went "au vache" that day.
Today [Tuesday] the ladies and the 18 m. pilots have to fly a 3 hour AAT.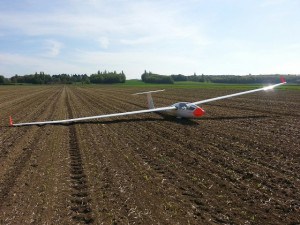 Jutta Sturm was one of the "day-1-outlanders" in her Juliette Charlie!
 I told you already that Japan has like Holland a good spring. Did the pilots fly in 2010 in April 4 times and in the total month of May 32 times, it now looks like a big month of May with already 88 flights between May 1 and 5!!!! Thanks to the OLC a bit of research learns;
in 2011 54 flights in May [ whole month] and in April 43.
In 2012 ; 67 in April and 44 in May[whole month again]
This year April had 66 flights from the different soaring fields in Japan and I am looking forward to the end of May to see the result than. I still have a nice picture from some of our guests in the Sportavia picture. Some still fly , some are too old and only look at gliders now.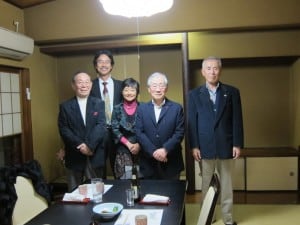 Ken the tallest is still flying and loves old timers [and I am not referring to his mates on the picture, though I know he likes them very much]  even has a few , Hiroko does n't fly that frequent anymore ,Junzo and Yoghi only "look" at gliders now. Lot's of young pilots fly of course as well and I noticed the Japan Soaring Club members at Itakura have an ARCUS T . Not bad!!!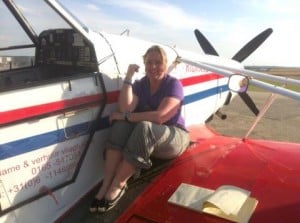 CAE DUTCH NATIONALS Competition Director Natasja on one of the Pawnees. Opening briefing on Wednesday May 8 at 8PM. after the practise day.
CU in a couple of days, till then. It looks we get the showers from Hahnweide this afternoon.
Cheers Ritz     On May 7 2013 , so one day earlier ,as on  Tuesday afternoon I travel to the East of Holland for a 65th birthday party on Wednesday , a day of Leisure on Thursday and 3 days at Terlet on Friday ,Saturday and Sunday.If possible you can follow me there at the spot, that is if the weather will be OK! They , the meteo changes all the time from opinion!
ritzdeluy@hotmail.com     www.soaringcafe.com      www.glidinginternational.com