Alphen aan den Rijn    Sunday March 10 2013
ritzdeluy@hotmail.com     www.soaringcafe.com     www.glidinginternational.com
Sunday today, maybe no important jobs for you  to do , so time enough to look at the next video, that is ,…when you have not seen it yet.
This video,  just under 20 minutes,  is MORE than worthwhile to look at.
It is made by Peter Jansen in Holland at the Dutch Glider Repair Center bv [ www.sct-terlet.nl] an  EASA approved center. This means that they can work on all European registered gliders and motorgliders up to weight [ max. 5700] , within the EASA and on parts/components of planes.
Since 2010 they are also CAMEO approved, which means that they are a Continious Airworthiness Management Organisation!
An ARCUS T was brought in with a broken fuselage! Now you can see how a very professional team repairs such a beautiful glider, to the same beautiful glider it was.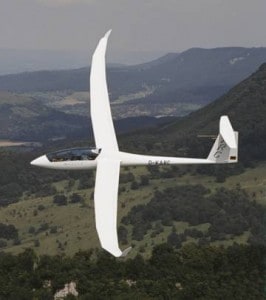 The beautiful ARCUS
courtesy website Schempp Hirth
One of the gentlemen working on it is Andre [ Evers] . He was one of the friends from my son Dennis about 28 years ago and is more or less brought up AT Terlet.
The other one who works at this center, is Sikko [Vermeer] and he was one of the pilots in "my" team during the EGC in 1988 in Räyskälä and in 1991 in Uvalde at the WGC. Sikko is involved in technical support and planning.
Peter himself is in the direction and takes care of the administration and the storehouse and makes beautiful videos.
Bobo, [ Slobodan Djandara] is head of the work shop.
Enjoy to the fullest!!!!!! I did!!!!
At vimeo http://vimeo.com/user1925143 are a few more of his great videos.
And I received a link as well to the Bailleau 2013 contest, in August. So nicely in time for you, to enter;
—"  Hello ! From the 6th to the 16th of August, this summer, will be held the 39th Bailleau International Gliding Contest, a classic flat-land gliding contest. And like every year for 16 years now, Bailleau International will be accompanied by the now famous "Amical" Contest, one of the best ways for a pilot to take his first steps in competition …
The  website http://2013.planeur-baileau.org   has just opened, you will find there all useful information and the online registration form ..
See you soon !—" from the Bailleau team.
Wrote about flying in South Africa last time from Tswalu, a place looking to me as paradise . Here ia a bit more news I received from Sven [Olivier].
—" Hi Ritz, yes it is indeed the 6th Helli Lasch Challenge at Tswalu from 4 to 16 March 2013 . It was the first day there, and I guess from the trace that it was a late afternoon flight (after travelling and rigging) and it looks like Tasilo flew a storm front. The overseas contingent consists of Tassilo Bode, Zbigniew Nieradka, Sebastian Kawa and Agnete Olesen. G Dale is the coach for the SA squad.—"
AND, also from Sven and you might remember this as I have written about it in the past , but for the new readers or to refresh,….
—" After the 27th World Gliding Championships (WGC) held at Mafikeng in 2001, the Helli Lasch Challenge (HLC) was formed – this is an exclusive gliding event held at the Tswalu Kalahari Reserve and is hosted and funded entirely by Nicky & Strilli Oppenheimer in memory of Strilli's late father, Helli Lasch.
Objectives of the Helli Lasch Challenge
1. A Living Memorial to Helli Lasch
2. Foster International relations
3. Promote South Africa as a gliding destination
4. Develop the competition skills of the S.African gliding team—" 
On Friday Tassilo flew at Tswalu, 2 small triangles in the training with others in a team and the 2d triangle was with a speed of 170km./h. WITHOUT water!!!WOW
courtesy Iain Baker
So ,…there is 500km difference in distance on the OLC; best flight on Wednesday from Rosemount Sky Park was by Jim Payne with Dennis in the back, with 1.095 km. and….. runner up Terry Bellair from Raywood in the 17 m. DG 400,  with 527 km . But the distance between both places is HUGE.
Good to see another fast [168.61 km./h]  and high [ 5887 AGL/7592MSL] wave flight by these 2 pilots so involved with the Perlan Project and so keen to be fast, far and high in the DG 1001 M and this time not with the Andes under them, but with the Sierra Nevada.
Jim went for a speed run,  as he said in his comment, [due to working in the morning] , but when the weather  turned out to be " a hammer down day … " he could not resist to fly fast and far, adding another 1000 km to his list.
More about the Rosemount Park at http://www.skypark.org/about/skypark_history.html and his flight is on the OLC , of course on March 6, when you have missed it.
No secret I still love Tocumwal, always did , always will do. Got from Sportaviation a nice under 10 minute video made by their guest -for-the-season, Mike Birch.
Eddie , " performing" in it, was our former CFI at Sportavia, an ace-instructor and very knowledgeable man.
Talking about Sportavia, just received a mail from Hiroko, a frequent flyer with us . She is well and hopes to see me back in Tocumwal, which means she will be back too.Great to hear.
Last Friday Toc was still on the "map" with a 512 km. distance in the ASH 26, even topping the OLC list! And yesterday with a 620 [500FAI triangle] same glider same pilot ; Terry Ryan.
Today it was Swiss Chris,  who flew in his ASW 27 a nice autumn flight; 680 km. [643 FAI triangle] visiting the East,North, West and South from Tocumwal up to 2785 AGL !!!
Enjoy Mike's  video about Tocumwal.
https://www.youtube.com/watch?v=Iu08SHnyAQY&list=HL1362682852&feature=mh_lolz
The Mount Beauty mountain gliding course finishes this long weekend, as Monday is a public holiday due to LABOURDAY and was well attended.
—"Flying has started slowly with  very stable weather on Monday and Tuesday, getting better  on Wednesday and Thursday. —"
From March 16 onwards KLM will fly once a week on Thursday to New York with a Boeing 777 -200, on BIO-FUEL. 1/4 Part of the fuel is distilled from the oil used to bake potato chips.
Will the WINGS OVER SWEDEN project have a go??????? Today is the LAST day to get the final amount of money to make it!!!! Only 400 pound from 34.000 pound to go. THAT could NOT be a problem, or,…..?????
In the afternoon I got a message/comment from a reader that WINGS OVER SWEDEN goes ahead.   Thanks to my reader Nicholas!!!. The goal has been reached ; 34.576 has been reached TOP!!!!
Wings over Sweden: http://www.kickst…r-sweden-0
After a few sunny spring days we are back to zero! Winter is back!
Pfff,…. Cheers Ritz and enjoy the blog at " THE CAFE " [ main page left] as well.
And to finish a few nice pictures from Bert Kuijper from the 2011 Nationals in Holland.
WAITING is the word, waiting for summer, with just a little bit of snow again this morning here, waiting as pilot/crew for the first launch during Nationals, waiting as "glider" , as tuggie and waiting as organisation.