ALPHEN AAN DEN RIJN    WEDNESDAY MARCH 20 2013
….the astronomical  SPRING or ….autumn down under, starts….
ritzdeluy@hotmail.com    www.soaringcafe.com     www.glidinginternational.com
NOT that we FEEL that spring is about to start here.
With a cold easterly and temperatures up to 8 dgr. LOWER than the average 10 for this time of the year, it seems we long more for a bit of sun and warmth than ever before.
Enough pilots however love these icy conditions. As said in my  blog in SOARINGCAFE last Sunday, it's [nearly] all about wave, hang and ridge soaring during this time of the year.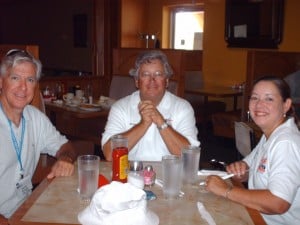 Werner above , with Carol and Bill Elliott [SOARINGCAFE] at Uvalde
When you are waiting for the promised story about RIDGE soaring , from Werner, it arrived just in time to use it in my Sunday-soaring-cafe-blog, so you can read it there. Enjoy! [link above!]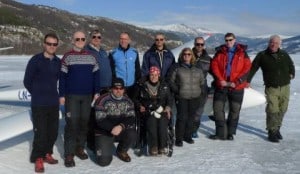 The team at Vaga in Norway with Robert 3d to the left.
Other friends "stand the icy-cold conditions" as Robert Danewid every year does. Soaring from an ice- runway and freezing cold, but lot's of fun! Their Vaga camp is an adventure from 7 days in the Norwegian Mountains, giving the pilots however the pleasure of wave up to 5000 m. QNH, hang and ridge soaring.
As I read on their site , it was a great week and they hope to see everybody and even more guests back in week 11 in 2014!
Stats; —" 173.700 altitude meters towed during the camp.The latest update of the blog says that there have been 153 tows. This gives an average tow height of 1.132 meters."
See for more stats and news ; www.wavecamp.no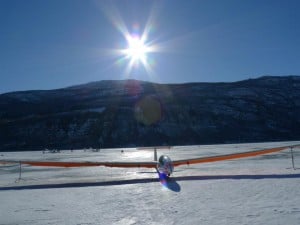 All pictures courtesy Robert Danewid.
for more pictures;
https://picasaweb.google.com/107081188854455519605/Vaga2013
More icy conditions and more fantastic pictures by blogger Benjamin Bachmeier who flies from Serres La Batie. Impressive with text.Here is one of them;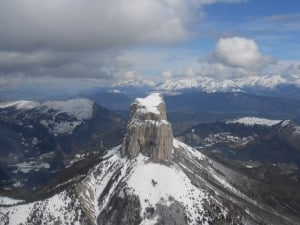 Courtesy Benjamin Bachmeier
http://flugfieber.wordpress.com/sudfrankreich-marz-2013/
Australia now; Dundee [Dieter] shared a nice link from an outlanding check;" starring " in this just under 15 minutes you- tube -video, pilot Zack and his instructor Ingo.
News from SEE YOU;
"New versions of SeeYou Recorder are released for both iPhone, iPad and Android devices. They include stability improvements, minor bug fixes and a feedback form. We love to hear back from you and for this reason we are making it more simple." On FB you only have to click , for feedback and/or settings, but I guess on their site as well. Have a look.
www.naviter.com
With 289  flights last Sunday on the OLC, it looks the season  slowly starts.
Nice to see an over 500 km. flight from Nagano in Japan in a DG 505M/20m.
Still just under  500 km. flights  from Orient in South Africa [ ASW 27] and over 500 k. from Mc Cafferey Field [South from George Lee Field] in Australia in ASW 19 , where the season is over and autumn started.
The "OLDIES" and I say that with love and pride, flew from Seminole Lake , "the home of the senior Nationals". Hope you enjoyed reading the stories written by Frank Paynter on Soaringcafe. They "were cold" over there as well.
About the last day you can go to ;http://soaringcafe.com/2013/03/2013-senior-nationals-day-5/?fb_source=pubv1
Interesting to read about the "elimination of the ban on pilot-to-pilot communication". Something we do not know  in Europe, as we all happily talk and talk, sometimes too much and you hear loud: RADIO DISCIPLINE!!!
One of the pilots is Hartley Faltbaum, "our " designated medical doctor at Uvalde last year.
He was n't very busy then, but was the first to take care of Peter Hartmann [CH]  when he was brought back from the place where he bailed out and his plane crashed,  after the collission in mid air with French pilot Louis Bouderlique.
The helicopter owned and flown by Mark Huffstutler , came back to the field , so we could see pretty fast Peter was OK , by stepping out of the heli himself.
Hartley still put him down on the ground , to check on him, but after that he was free to go for an all- over -precautionary -check/scan in hospital.
.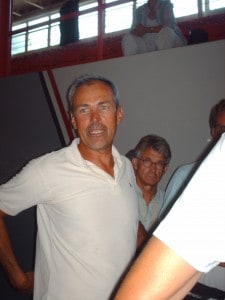 Peter; Still pretty emotional on the next days briefing, talking about the incident.
Last Sunday I noticed Peter on top 4 of the OLC  flying a DG 505/20 m from Bad Ragas in Switzerland.
GOOD!!!
It was also very good from Hartley to give all people suffering from the heat , tips to "survive". He did that when necessary before briefing. I still drink every morning a lot of water to start the day, as he advised and as you can see, we took at that time his advise of "eating" well too.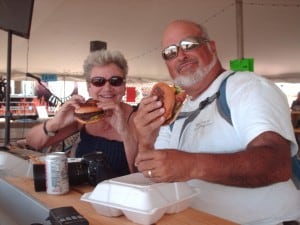 With Gary, crew from Bill Elliott [WE] in Uvalde.
 Indonesian Airline Lion Air has ordered 234 Airbusses of the A 320 type. A huge order ; 18 milliard Euro is involved!
Airbus is doing well , as last week orders were set by Lufthansa[100 A320's] and Turkish Airlines [82 A 320's]
The CAE Oxford Aviation Academy , sponsor from the Dutch Nationals as CAE/NLS , held in May [9-18 with a practise day on May 8] from this year, is one of the "providers"  from young pilots to Lion Air, as well as to German Wings [ full daughter of Lufthansa ] and Ryan Air. This company just ordered 175 Boeing's; type 737.
So you would think, that for the future there should be enough new jobs again for young pilots. At the moment it is not easy to find a job!
Talking about the Dutch Nationals; 36 participants at this stage, 4 in standard class, 4 in open class, 14 in club class, 1 in the 2-seater [20m] class , 11 in 18 m. class and 2 in 15 m. So maybe a few of the smaller classes will have to join into one mixed class, or in the end a few more pilots must/should  enter.
Natasja is the CD again with some new and old faces supporting her and my "mates" Daan, Sjoerd and Bertje the tuggies with , when necessary also Zweef [Evert Jan] and Ralph.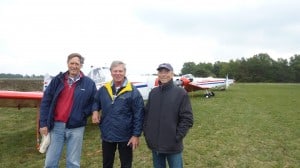 Tuggies last year Sjoerd, Bertje and Daan.
The DUTCH NATIONALS will be at Terlet  and last Monday one of the pilots flew from there already a nice 318 km. cross country flight , direction East straight in to Germany over Münster in a 17m. DG 400. As a member of the winning OLC club last year,  the Gelderse,  he has made a few steps to the 2013-top already.
To finish "for those who are not on FB , a VERY HAPPY Giorgio.
Finally he was back in the air .
Marina called it;
"The Ridge rat is back."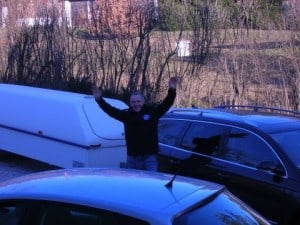 A happy Giorgio after 4.30 hours flying over the Alps.
Till Sunday, cheers Ritz