DAY 1 at the WWGC as followed at home.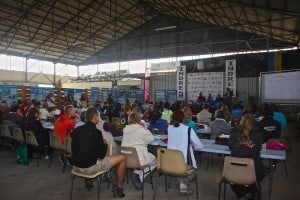 Briefing day 1 as shared by team USA.
Due to the long winter and the late spring all grass and crops are high in most parts of Europe. Normally it would all have been cut down already, not this year, so there is some concern about going " aux vaches" for the ladies flying the WWGC.
Luckily France has a lot of small airfields so that will help .
Also the pretty complicated airspace might be a problem for some who have never been in that region . Loosing points due to airspace infringements is such a waste and you never do it on purpose. Mostly you hear the beep and it's too late.
It was all discussed at length during the briefings, so let's hope there will be no outlandings due to fantastic weather and no penalty points by clear instructions and maybe by not setting tasks too close to those forbidden areas.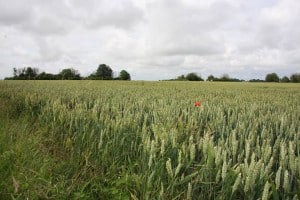 high crops as shared by the USA team.
Some great pictures from day 1 on the official French FB site ; 47 Have a look, I selected a few for you.
7th FAI Women's World Gliding Championships – Issoudun, France 2013's album: Race 1.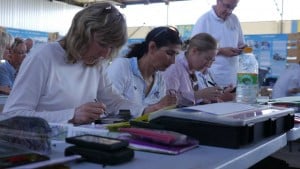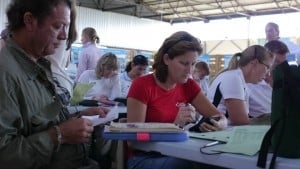 The UK girls and the girls from the USA [ with TC Francois] and Australia.
And before the first launch.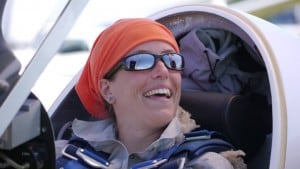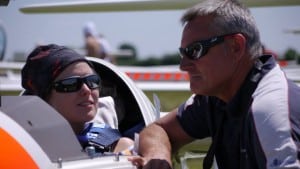 Difficult to see with hair under scarf and sunglasses but pretty sure this is Elena's smile [Italy] and one of the French ladies with TC Eric.
Quite a blue day but that was forecasted certainly to the W and S,  other areas should have some cu's , but there was lift enough in the blue as well.After a small delay  the girls were launched by 8 tuggies at 12.45!
Within half an hour the start lines were open last for 15 m. class at; 13.47.
During the day more and more cu's were to be seen as you can see on the picture , from Frouwke, even at the finish line.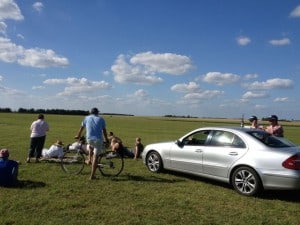 And it turned out a good day, certainly for Sarah who won the Club class in the St. Libelle and got the first 1000 points. With handicap 98 she won from the French girls  Magali and Laetitia flying in the St. Cirrus with a handicap of 100. All scores still preliminary, don't forget!
So a good first day for our USA friend flying the Libelle, so far away from home.
As the TC Francois said; Yope, our very own Sarah took the day.
I am sure her mates in Chilhowee and all guests from her airfield in Tennessee, are "over the moon", with the very first daily win in a WGC or WWGC for Sarah.
Swaantje did well loosing only 38 points in the LS 1f and also Elena [LS1f] had a great day being 5th . All those girls started at the same time at 14.21.
UK pilot Ayala [St. Libelle] started also at that time and was 6th.
The German girls Chrissie and Doerte , starting at 14.13, are also still in the 900 points ranch.
In standard class the German ladies showed straight away why they are good. Sue as the current world champion, leads on day 1. Only  LS 8 gliders in this class except for a Discus 2A and ASW 28. Natasja was last but she finished and got 698 points! Good on her. Nobody outlanded in both classes.
In 15 m. the German ladies with Susanne, who is the current WWGC champion upfront ,set the pace in this class as well. All 3 on the top positions 1000,999,997 points. Guess TC Uli is happy.
2 Outlandings in this class. My friend Teresa finished last at 6.30 PM. but,..made it home!!!
Pleased to see Diofasi did well with a 4th place.

German TC Uli.
Courtesy French FB site[one of the 47 pictures!]
It seems the next couple of days will be weather-wise pretty good, so we can follow more interesting soaring. Will be busy over the next 3 days , but try to keep up with the achievements.
Hope you all follow it too, they do their utmost best, ALL of them, to bring  WWGC- soaring in the best way to us!
This was only the beginning, day 1 was interesting to follow!
CU on Wednesday. Cheers Ritz