ALPHEN AAN DEN RIJN   SUNDAY JANUARY 27 2013
ritzdeluy@hotmail.com     www.soaringcafe.com      www.glidinginternational.com
To get back in the rhythm some short news as guests come to see me today.
Soaring in Australia is still BIG! On Friday  Narromine had great weather [again!] and Adam Woolley was one very happy chappy flying his St.Cirrus. The day before he flew a nice set 600FAI triangle. Narromine has been blessed this year with top weather, good as last year was n't too good!Normally the weather is pretty good in Narromine.
Here is his comment:
—"What a day!  Pity this 750 took us 50% of the time in the blue, while all to the North was STONKING!  1100-1250km FAI possible with a supership


Flew this task in my dry Cirrus, had a great time.  Was awesome to team up with Dutters for the final 220km – cruised home together, even with the sharp shut off of the day.—"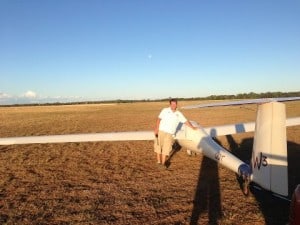 Adam and his W3.
And than , a bit later in the season there is Potchefstroom with 3 1000 km. flights on Jan 24 and as Oscar said ;" More to come".
Oscar Goudriaan and mates Uys and Attie Jonker each flew their JS 1 over 1000 km with speeds from 126 117 and 118 km. p/h.
In between Laurens Goudriaan flew 460 km from Worcester where he flies the Western Cape Regionals with p.e. Sven Olivier, with 182 km./h. Sven had a speed of 172 klm./h. Not bad either.
As Sven mentioned on FB;
—" Today Oscar Goudriaan became the first pilot to complete a 1000 km task in a 21m JS1-C.  Oscar, accompanied by Attie and Uys Jonker in their 18m JS1 gliders took off from Potchefstroom and started a declared 1000km out and return.  Unfortunately thunderstorms south of Petrusburg (near Bloemfontein), forced them to chang…e the declared task in flight.  Oscar's 2nd turnpoint was North West of Stella, and a much needed climb well past 18h00 allowed them to add the last 100km leg required complete a 1000km free distance flight just before sunset.  It was not a great day for a 1000km, with the trio struggling through the low, blue conditions unitl 13h00. Althouhg some good climbs were found in the latter part of the day, 3m/s climbs were the standard.  It is the first time in the history of the Potch Gliding club that more than one 1000km flight was completed in a season.  Oscar completed 1042km, Attie 1004 and Uys 1001 km.—"
More news about the "to come"  1000 km flights in soaringcafe!
Not every body has the same good time as I had in Australia. Some Dutch people [4] working for a Dutch business up in the NW went fishing and when the boat capseized due to a wind gust, they were chased by sweetwatercrocodiles. They saved their lives by climbing in the highest tree where they were waiting to be rescued for 22 hours. Kidney and liver might be damaged by dehydration but,…they survived!What a story is n't it?
Read on the same page that Australia has the biggest amount of  dangerous animals in the world. From the 10 deadly animals 8 live in Australia under them the red back and funnel-web spiders,  snakes, crocodiles and several under-water-animals.
Still ,…knowing that , it is one of the most beautiful, interesting and kind countries.
And about the 17th FAI European Gliding Championships in Poland in Ostrow the next news;
Dear all,
First of all we would like to wish you all the best for the upcoming season 2013! We trust this year will bring you lots of joy as well as many successes in gliding.
We are happy to announce that the official website of the 17th FAI European Gliding Championships in Standard, Club, World and 20m Multi-seat Classes is up and running.
Please visit http://www.egc2013.eu .
Currently an official Entry Form as well as 1st Bulletin are available in "Download" section.
Please also find these documents attached to this message.
We are also  active on facebook http://www.facebook.com/Ostrow2013
.
In order to familiarise yourselves with our airfield as well as the
region, we encourage you to watch the welcoming spot
http://www.youtube.com/watch?v=76vTF0DH8Js
.
In case you have any questions or queries, please do not hesitate to
contact us! We will be happy to help you with your preparations for this
exciting event.
CU in Ostrów!
With best regards,
Team
EGC2013 Ostrów, Poland
The FAI Sailplane Grand Prix in Chile [Jan.26-Febr.2] 2013 started yesterday with amongst others Chilean hero's Carlos Rocca and Rene Vidal, several German pilots as  Thilo Holighaus, Patrick Puskeiler and Jurgen Wenzel and Thomas Gostner from Italy and Didier Hauss from France.
The first task was a prey for the Chilian pilots Carlos and Rene, winning the 10 and 8 points for the day. Patrick, Thomas and Tilo had the 7,6 and 5 points.
Task length; 433 km.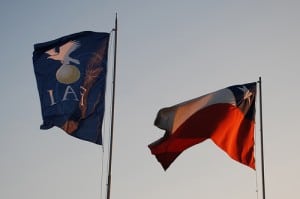 after the openings ceremony , the pilots are ready to go!
Picture courtesy Grand Prix site;
www.grandprixchile.org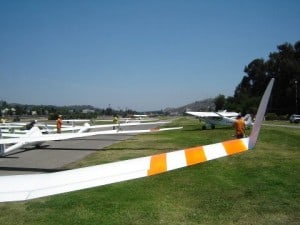 First day as seen by Art.
And last but not least , the final results from the Chaves WGC as send out by the FAI.
Final Results :
club Class – Overall
1st : Santiago Berca ARG
2nd : Tobias Geiger AUS
3rd : Roman Mracek CZE
Standard Class – Overall
1st: Sebastian Kawa POL
2nd: Mario Kiessling GER
3rd: Felipe Levin GER
World Class – Overall
1st: Sebastian Riera ARG
2nd: Jorge Tartara ARG
3rd: Jedrzej Sklodowski POL
The full results can be found at the following address :
http://www.wgc2012.com.ar/index.php
Cu next Wednesday, cheers Ritz