With 12 dg.r ABOVE zero and the warmest ever January 3 in history we are better of than most of the people in Canada and the USA where minus 37 was measured including the chill factor. Brrrr,…..
And the poor UK friends are at some places still suffering from rain and wind causing flooding.
We had a couple of days ago,  a short but heavy thunderstorm with wind up to 169 km./h. damaging again roofs and trees.Weird weather!
Certainly in the beginning of a new year it's easy to look back at what has happened already in your life. No secret that one of the best times in my life happened in 20 -years-  Tocumwal, 10 visits/ wintermonths as guest and 10 years as co-owner of the Sportavia Soaring Center-business with George.
Looking at FB a lot of news around that time, still comes back and stories pop up in my brain again.
Last week Grietje ,  co- owner from Australian Soaring Center Corowa, shared a picture from her son Frank with me , wearing a hat/cap from her old Sportavia time. Both Grietje and Francesco flew with us in the past and Grietje even worked with us in the office, at the field, picking up stranded guests in a paddock first in the back of the tug ,then bringing their glider back home and as pilot herself.
All good times.
Lovely to see those pictures , here they are with her permission in HD. THANKS!!!
Frank, the new Ingo????
Courtesy Grietje
No introduction necessary and more  memories of Tocumwal, as on FB, I found a few pictures, from  a Christmas gift for the Southern Riverina Gliding Club, the club where Ingo is the CFI and the charismatic person " being the engine" of   the club. Around this time of the year the Geelong Gliding Club always spends their soaring-holiday in Toc.   and last year I had the privilege of getting to know a few of their pilots.
Look what they brought to the SRG-club of our former instructor and life-long-friend !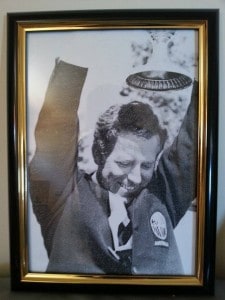 I guess most of the people my age remember these pictures!
More memories, as in the past we had a guest from former Yugoslavia, Miro.
He liked us we liked him, lovely ,optimistic ,easy going guest.
He loved his soaring as well and drove several times a month up to Tocumwal. He brought uncles and aunties, cousins and friends,  to fly with him and all stayed with us in the motel , eating and drinking and having fun. Yes I have to be honest they brought in good business as well.
Guess what,….. several are still flying and one of them , as I just heard from George who was in Toc., is the President of the club nowadays, Zack Lutovac, keeping us informed about what's happening in the Soaring Herald.
http://www.srgc.com.au/
On November 30, by the way,  he wrote about Dieter Dundee, who flew with us in the past and lives since then half a year at Eddies caravan park in a nice " Schloss".
" All people who are involved in the sport of gliding, are well aware of how important safety is.
FLARM, proved itself over the last few years as a very good safety device in gliding sport and prevented many mid-air collisions and therefore saved many lives!
Our member and also experienced glider pilot himself, Hans Dieter "Dundee" Albrecht donated 2 FLARM systems to our club, for use in club's gliders!"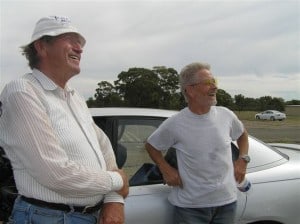 Ingo and Dundee together a couple of years ago.
And less good news as well as I just heard and saw on the pictures shared by the SRGC.
" Sadly, yesterday at the airfield our club lost our Bergfalke VH-GKZ.
As the crew was preparing for the flight strong gust of wind picked up the glider and smashed it to the ground. LUCKY NO ONE WAS HURT!!! The glider is damaged beyond repair!"
" Just"   a dust devil!!!
And,…when I see the pictures from Sportaviation with all " our"  guests from then, I am really happy that  they are still [nearly] on the same spot , at the same field , with the same CFI Eddie and under the good care of Cheryl his wife.It all brings back great memories. It's a small but FINE operation there on the South side of the airfield and that's all they want. Looking forward to see them all back next season.
And looking at the site from Corowa it touches me that so many good friends found a perfect new home after Sportavia collapsed.On the pictures they all look happy and energetic.
And looking back just a few weeks ago I missed out on 2 really good declared 1000 km. flights by Brian DuRieu [Kingaroy] flown from Narromine and I want to mention them now, as the declared ones are the real ones!
The flights were; 1038km. on 16 DEC declared 3 Turn Points & 1034km. on 18 DEC declared FAI Triangle.
Good on you Brian!
Not a too good start in  Waikirie for the Club and sports class Nationals;"  It's bloody raining"  was the message from Robert waiting for the real soaring weather to come,  together with 45 other pilots. BUT,….then there is time to make pictures. This one from my favorite river, yes it streams also through Tocumwal, another great memory!
The Murray in S.A . [Waikirie] now in dry times and in NSW in 2011 in November in wet times.
First picture courtesy Robert Smits.
Waiting gliders at  the Waikirie-tie-down-area,  as seen by Grant Hudson.
shared by the GFA.
Still not the best weather as I read on the GFA site as shared on FB;
"Difficult landing conditions with strong wind gusts on landing. A few ground loops and some damage. No one has been injured. A number of outlandings and many trailers are heading out in all directions."
That was today,so we have to wait for the full scores,  BUT they had already 2 good days with 2 and 4 hour AAT's.
In club class Tobias Geiger in the LS 4 leads after 2 days and in the sports- class Allan Barnes in the LS 8 is on top after 2 days.He flew 480 km. in the LS 8 in time 4.09.
The New Zealand Multi Class Nationals had after 2 days of over 300 km. flights in the open class a leader flying a DUODISCUS, Maurice Weaver from beautiful Tauranga  and a runner up Trevor  Terry in a Duo Discus as well, from beautiful Taupo.
15 m. class,  also  after 2 over 300 km-days showed, Lyndsay Stephens on top in the ASW 27 and as runner up Steve Wallace in the Mosquito with good old Tony van Dyk on a 4th spot in the LS 8.
Day 4 was cancelled, day 3 was difficult with many out landings.
He , Jim Payne, calls it a holiday, I call it hard work with hours of sitting in the glider and days of sitting as in waiting BUT…then it's there again THE day;2.130 km. with 145 km./h.
" What a holiday … from Christmas Day, 3 flights for 45 hours and 6,350 km … time for a siesta".
His full comment on the OLC of course!
January 1 showed a nice, some kind of example- list of places on the OLC, where in the last couple of months the longest/best flights were flown either in wave or thermals; 1. Nahuel Huapi in Argentina . 2. Bitterwasser in Namibia. 3. Pokweni in Namibia.4. Kiripotib in Namibia. 5. Douglas Backhouse and Gariep Dam.
The 2 x 1000 km. from Worcester one in an ASW 20 and one in a 15 m. Ventus, show the potential for the Qualifying Grand Prix over there in 2015 this time of the year[Jan.3 -Jan.15] .
That's it! Cheers Ritz
On Sunday January 5 2014 blog 2 for this year.